BIWIN, a world-leading expert in the development and manufacture of flash and advanced NAND flash memory, has launched a new business-grade SSD that is perfect for the digital signage market, the half slim H6201. There are many different industrial applications for digital signage and the field is growing. To operate in public and outdoor environments, it is critical that the components are reliable, scalable, efficient and of low maintenance cost.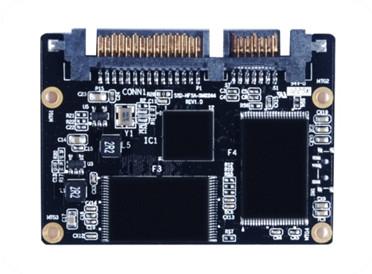 Flash memory is suitable for industrial grade products for a variety of reasons. By comparing with traditional HDD, SSDs are far more reliable because they have no moving parts. This makes them an ideal solution for deployments where heat, cold, dust, humidity and even shock and vibration are common. BIWIN SATA II Half-slim SSD H6201's MTBF of 2,000,000 hours is more than doubled comparing with mechanical hard drives, leading to lower maintenance costs. H6201 is extremely fast with the ability to handle high IO data throughput such as multiple data streams suitable for graphics and video in a very small package. SSDs are much more energy efficient. For example, H6201's maximum power consumption is 0.97W, which eliminates the dependency on system fans for cooling. The result is a quieter design with lower annual energy costs.
The H6201 comes in a variety of densities: 4GB, 8GB, 16GB, 32GB, 64GB, 128GB, allowing for all signage storage needs such as small capacities available for costing down compared with HDDs.
How do you know these BIWIN SSDs are ready for serious duty? BIWIN has developed a reputation for a strict reliability testing process for their business and industrial grade products. Before the modules are even built there is the BIWIN Development Stage which consists of rigorous environmental testing scenarios.
BIWIN H6201 is electrically compatible with a serial ATA disk drive. In order to meet the high quality standard, BIWIN H6201 utilizes Multi-Level Cell (MLC) NAND Flash Memory. Moreover, to ensure the data integrity, advanced technologies are used such as dynamic bad block management, dynamic and static wear-leveling, and error correction code (ECC). In addition, BIWIN SSD also provides rugged features in industrial PCs under extreme environments with a high MTBF.
Last updated: Apr 7, 2020 at 12:08 pm CDT