Palit Microsystems Ltd, the leading graphics card manufacturer, has unleashed the GeForce GTX 760 graphics card. A powerful graphics card that gives you the fast, smooth, quiet gaming you're looking for in all your favorite titles. It taps into the powerful Kepler architecture to deliver faster, smoother, richer gaming. It's more than state-of-the-art technology and features. It's truly game-changing performance.
Following with Palit JetStream- that introduces innovative custom cooling and optimized overclocked capabilities to deliver the ultimate gaming experience, now continuing to represent the exciting new series is the Palit GeForce GTX 760 JetStream, which offers incredible factory overclocked performance, low noise emission, as well as a powerful cooling design for efficient heat dissipation. GTX 760 offers all the 700-family performance features, plus next-gen technology innovations, engineering, and features that let you crank up settings and resolutions in today's most graphics-intensive games.
8% Overclocking Performance
When it comes to overclocked performance, the Palit GeForce GTX 760 JetStream is integrated with DrMOS, which is a suite of optimized multi-chip power stage modules designed to offer high current circuitry, low noise levels and low heat emission. And the optimized design that ensures stable voltage supply, it's no wonder the Palit GeForce GTX 760 JetStream is capable of transforming your PC into a visual powerhouse!
10C Cooler, 5dB Quieter
Worthy of its JetStream moniker, the Palit GeForce GTX 760 JetStream comes equipped with two 90mm fans that are strategically placed to draw heat away from the PCB. All dual TurboFan Blade fans are designed to generate powerful air stream and air pressure. Though the JetStream series offers a powerful cooling system, it by no means generates a large amount of noise. In fact, the Palit GeForce GTX 760 JetStream is 10C cooler and 5dB quieter when compared to reference cards.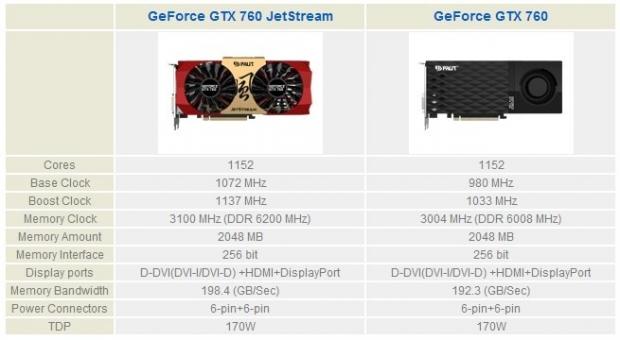 Not only the GeForce GTX 760 JetStream, Palit also provides another custom design GeForce GTX 760 with new thermal cooler. Adopted with DrMOS and its new thermal design, which can ensure the extreme overclocking performance and stability. Palit GeForce GTX 760 offers gamers additional outstanding options to experience groundbreaking gaming performance.
To optimize the revolutionary features of GeForce Series, Palit has revealed the enhanced "ThunderMaster" overclocking tool that fully utilizes NVIDIA GPU Boost technology for intelligent monitoring of clock speed, ensuring that the GPU runs safely at its peak and the game is at its highest frame rate. It also offers new levels of customization, including GPU Temperature Target and Frame Rate Target control. Palit ThunderMaster allows you to drag the performance to its maximum score!
Last updated: Apr 7, 2020 at 12:08 pm CDT