ASUS today announced the Radeon HD 7990 graphics card, a dual-GPU offering derived from 28nm AMD Radeon graphics processors. With twin GPUs based on AMD Graphics Core Next technology and 6GB GDDR5 video memory, the ASUS Radeon HD 7990 easily handles the most demanding DirectX 11.1 PC games in ultra settings and resolutions above 1920 x 1080.
It is also ready for ultra HD 4K video, delivering the finest graphics performance and the convenience of a standard 2-slot height. With two GPUs factory-paired on the board, customers only require one free PCI Express 3.0 slot without needing to use AMD CrossFireX multi-GPU bridging.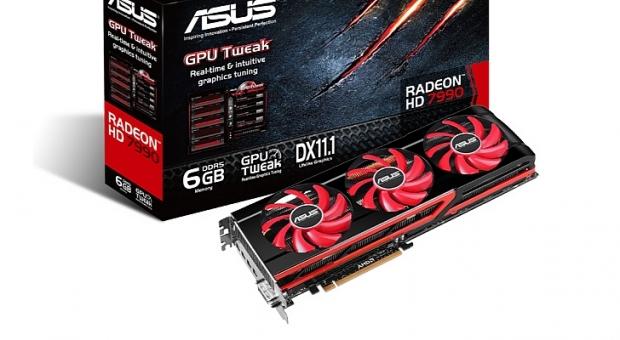 GPU Tweak intuitive graphics card tuning
The ASUS Radeon HD 7990 delivers the power of two HD 7970 GPUs, totaling 4096 Stream processors and 256 texture units. Customers can fine-tune its performance with GPU Tweak, a user-friendly utility with a highly approachable interface.
In seconds, customers may adjust GPU core and video memory speeds and voltages, graphics card fan speed, and power consumption targets (or thresholds). Multiple profiles for different games can be created and saved, all with instant ease and no learning curve.
Big 6GB GDDR5 video memory and DirectX 11.1 optimization
For dedicated gamers, the ASUS Radeon HD 7990 presents an ideal power platform. Its fast 6GB GDDR5 memory enables highest-resolution textures and utmost visual fidelity. Customers enjoy more immersive experiences while the full benefit of PC gaming is realized and games run as intended with no compromises.
The ASUS Radeon HD 7990 supports Windows 8-based DirectX 11.1, the newest version of the Microsoft API. The card has the power and compatibility to deliver the latest effects and technologies, including advanced tessellation and shader tracing, resulting in the most realistic games available to date.
The ASUS Radeon HD 7990 ensures full readiness for upcoming standard-setting games, and includes eight hit titles in the box:
Tomb Raider (Crystal Dynamics/Square Enix)

Hitman: Absolution (IO Interactive/Square Enix)

Sleeping Dogs (Square Enix)

Deus Ex: Human Revolution (Eidos/Square Enix)

Crysis 3 (Crytek/EA)

Far Cry 3 (Ubisoft)

Far Cry: Blood Dragon (Ubisoft)

BioShock Infinite (Irrational Games/2K)
The ASUS Radeon HD 7990 graphics card will be available worldwide from late May.
Last updated: Apr 7, 2020 at 12:08 pm CDT