Club 3D unveils today the heir of our first Radeon HD 7990. This card already crushed the competition in terms of sheer power, performance and awesomeness. But now we present its successor, the even faster Club 3D Radeon HD 7990. As the world's fastest and most advanced graphics card, it descends from generations of AMD Radeon Graphics cards that wore the same crown. And with a heritage like that, you know what you're getting: an unparalleled experience wherein gaming is everything... but not the only thing. All hail the new king.
Compared to the previous Club 3D Radeon HD 7990, which was already a stellar performer and has a track record for being the fastest graphics card in the world for some months in 2012 and 2013, the new Club 3D Radeon HD 7990 offers even better performance while being quieter, cooler and more energy efficient. It's almost impossible to imagine but even that top of range product left room for the improvement shown in this iteration. It's clear that these improvements enable better performance than any other graphics card available in the market today and at the same time operates with less noise and using less power.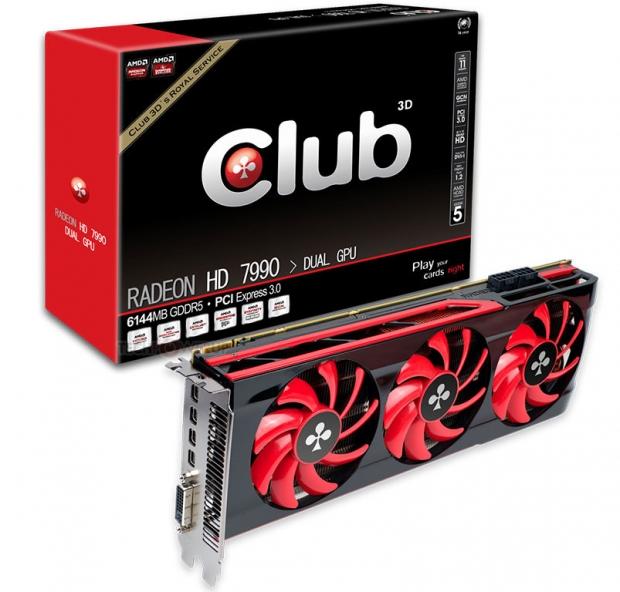 Performance
You deserve to play the world's most demanding AA game titles like Crysis 3 at the highest resolutions and maximum detail settings, never settle for less! The HD 7990 offers two of the world's fastest GPU's in a single graphics card offering 4096 stream processors of raw power.
This enables smooth game play even in 5760 x 1080p resolution.
Design
The Club 3D Radeon HD 7990 with the dual slot, three variable speed 80mm low noise fan blade design combined with high performance heatpipes allows cooler running temperatures under load, which results in quieter operation, and increases overclocking and performance potential.
The metal back plate significantly improves the pcb strength and reduces electrical noise.
AMD GCN Architecture
Designed to push not only the boundaries of DirectX 11 gaming, the GCN Architecture is also AMD's first design specifically engineered for general computing. Equipped with 64 compute units (4096 stream processors), each containing a scalar coprocessor, AMD's 28nm GPUs are more than capable of handling workloads-and programming languages-traditionally exclusive to the processor. Coupled with the dramatic rise of GPU-aware programming languages like C++ AMP and OpenCL, the GCN Architecture is truly the right architecture for the right time.
AMD Eyefinity Technology
Step beyond the confines of a single monitor and embrace the true potential of PC gaming with the ultra-high resolutions of AMD Eyefinity multi-display technology on the Club 3D Radeon HD 7990.
Supporting multiple independent display outputs simultaneously, AMD Eyefinity technology delivers innovative graphics display capabilities enabling massive desktop workspaces and ultra-immersive visual environments for the ultimate panoramic computing experience.
For more information, visit the product page.
Last updated: Apr 7, 2020 at 12:08 pm CDT