LG Electronics and Telstra today announced they will begin taking pre-orders for the highly anticipated LG Optimus G ahead of it arriving in Telstra stores on Tuesday 12 March.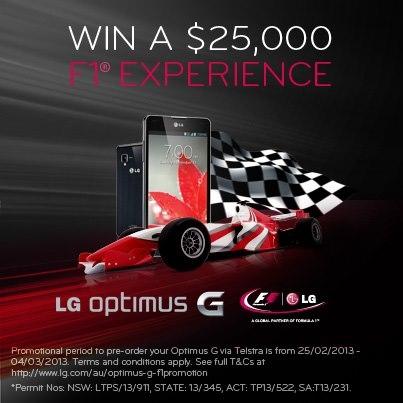 Customers can purchase the LG Optimus G 'Superphone' for $0 upfront on the $60 Every Day Connect plan (minimum cost $1440 over 24 months).
"Optimus G has generated a tremendous amount of positive interest and we want to make sure that customers anticipating the 'Superphone' will have the opportunity to get their hands on one as soon as possible. The LG Optimus G is a serious contender in the highly competitive post-paid market, and it is packed with class leading technologies. We believe this is simply the greatest Android handset to arrive in Australia to date," said Jonathan Banks, LGE's new Head of Mobile Communications.
LG's Optimus G features the latest advancements in hardware and software and represents collaboration between LG Display, LG Innotek, and LG Chem. Among the features on offer, the Optimus G comes with a Qualcomm Snapdragon S4 Pro Processor, and a high-resolution 13.0MP camera. Superb user experiences include QuickMemo, QSlide, Dual Screen/Dual Play, Zerogap Touch screen technology, and a high-density 2,100mAh battery.
Telstra Mobile Director, Andrew Volard, said Telstra is excited to offer customers the LG Optimus G on Telstra's 4G network.
"We're sure our customers will love the impressive LG Optimus G smartphone, especially when paired with Telstra's high-speed 4G coverage -- which is available in more than 100 metropolitan and regional areas nationwide."
All customers who pre-order online from Telstra between Monday 25 February until Monday 4 March will go into the draw to win the ultimate Australian F1 Grand Prix experience valued at $25,000.
The prize package includes flights and accommodation to Melbourne for 2 people, Friday Paddock Club pass, pit lane walk, a hot-lap in a 2 seater F1 car, grandstand passes for Saturday and Sunday, and $1,000 to spend - a super prize brought to you to by the 'Superphone'. Full competition information can be found at www.lg.com.au/f1promo
Telstra customers can pre-order and find out more information at: www.telstra.com.au/optimus-g
Last updated: Apr 7, 2020 at 12:07 pm CDT