BARCELONA, Feb. 24, 2013 - LG Electronics (LG) will unveil a smartphone lineup at Mobile World Congress (MWC) in Barcelona, Spain that focuses on a four-tier strategy. The four strategic Optimus series devices - G, Vu:, F and LII - all feature LG's next generation core technologies. These new models combine outstanding hardware, world-class high definition displays and a user-centric user experience (UX) with each series emphasizing a different facet of the company's smartphone expertise.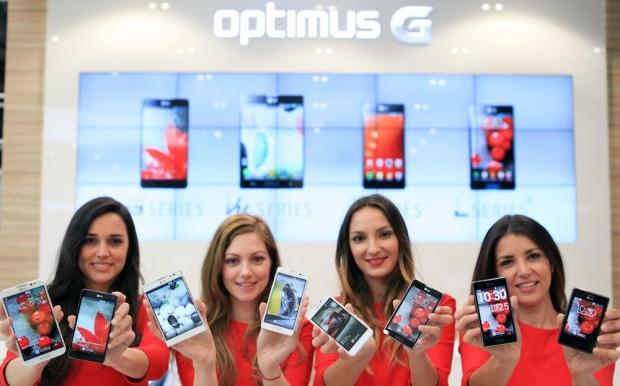 With an initial target to sell 10 million smartphone each quarter and double sales of LTE devices in 2013, this is LG's most ambitious smartphone strategy to date. Flagship models from the G and Vu: series will target the premium segment while the F and L series will be positioned as more mass audience smartphones for 4G LTE and the 3G markets, respectively.
LG Optimus G Series - Flagship Superphones Featuring World-class Hardware
Since the launch of LG's Optimus G last September, the immensely popular flagship product has received a number of awards and favorable reviews thanks to its high quality display, advanced 4G LTE technology, superb design and innovative UX. Development of the Optimus G was the result of close collaboration with sister companies LG Chem, LG Display and LG Innotek.
The Optimus G is the first smartphone in the world to employ Qualcomm's powerful Snapdragonâ"¢ S4 Pro Quad-Core processor. And LG's True HD IPS Plus display and Zerogap Touch technology deliver vibrant, high quality images and superior touch responsiveness. In addition to its unmatched hardware, stylish design and a beautiful screen, the Optimus G also incorporates user-friendly UX features, such as QSlide, QuickMemo and Live Zooming.
Originally launched in key target LTE markets, the LG Optimus G is making its debut in over 50 countries. The newest addition to LG's Optimus G series, the Optimus G Pro, was recently introduced to the Korean public. The Optimus G Pro is a 4G LTE-equipped smartphone with a 5.5-inch Full HD IPS display and compelling new UX features such as Dual Recording and Virtual Reality (VR) Panorama.
LG Optimus Vu: Series - Large Screens for Enhanced Viewing Experience
A new hybrid LTE device that combines the portability of a smartphone with the viewing experience of a tablet, LG's Optimus Vu: is equipped with a 5-inch, 4:3 aspect ratio display that is ideal for viewing documents, e-books, multimedia content and browsing the internet. With the recent addition of the Optimus Vu: 2 in the Korean market, there are now two devices in Vu: Series that deliver a unique mobile user experience with UX features such as Vu: Talk and QRemote.
LG Optimus F Series - 4G LTE Smartphone for Everyone
LG's Optimus F Series is the ideal 4G LTE smartphones for just about everyone. Both the Optimus F5 and Optimus F7 were specifically designed for consumers making the transition from 3G to 4G LTE networks. The launch of Optimus F Series this year will enable LG to expand its footprint rapidly in the burgeoning 4G LTE market. LG Optimus F will deliver to new 4G customers the speed of LTE and a range of useful UX features without the high entry fee demanded by most 4G smartphones. The Optimus F5 and Optimus F7 will be showcased at LG's MWC booth.
LG Optimus LII Series - Continuation of Unique Design Heritage
The Optimus LII Series incorporates the refined sensibilities of LG's L-Style design philosophy. Each 3G phone's subtle yet bold aesthetics are representative of LG's unmistakable design DNA. Surpassing the beauty of the first L Series, the Optimus LII Series were developed around four new design elements: Seamless Layout, Laser Cut Contour, Radiant Rear Design and a home button with Smart LED Lighting. The Optimus L3II, Optimus L5II and Optimus L7II will all be on display at MWC.
Creative and Friendly UX - Intelligent Features That Go Beyond Hardware
LG continues to develop the most advanced UX in order to provide unrivaled user-centric features in the era of LTE technology and large, high-resolution displays. The company's four new smartphone series include an array of advanced UX features that were designed to take maximum advantage of the hardware specific to these devices.
First unveiled on LG's Optimus G, QSlide provides the ability to display two full-sized windows simultaneously, enabling users to perform a greater combination of tasks with increased efficiency. The recently upgraded version of QSlide allows for the opening of two apps at the same time in full screen mode and change the size, position and transparency of QSlide windows as needed. Video, browser, memo, calendar and calculator functions are all compatible with LG's true multitasking UX. Dual Recording and Virtual Reality (VR) Panorama are two of the newest additions to LG's UX specifically designed to take advantage of the latest Full HD display technologies to enhance the users' mobile viewing experience.
Last updated: Apr 7, 2020 at 12:07 pm CDT