ASUS today announced the TUF Series SABERTOOTH 990FX/GEN3 R2.0, the world's first AMD-based motherboard to feature PCI Express 3.0 for use with next generation high performance graphics cards. Up to three DirectX 11 graphics cards with 28nm GPU technology can be used via NVIDIA SLI or AMD CrossFireX to create desktop PCs with formidable graphics performance.
SABERTOOTH 990FX/GEN3 R2.0 also features renowned ASUS TUF Series thermal design for superior heat removal. Like all TUF Series motherboards, it undergoes military and server-grade testing to ensure absolute stability, reliability, and longevity. SABERTOOTH 990FX/GEN3 R2.0 is backed by a five-year warranty.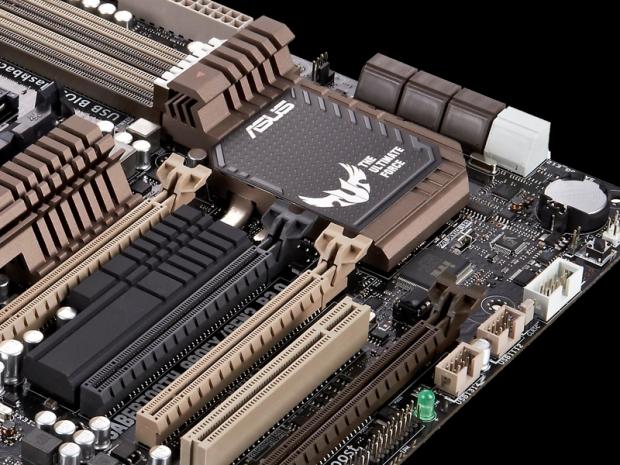 Military-grade components for superior reliability
SABERTOOTH 990FX/GEN3 R2.0 meets strict TUF Series quality assurance standards, which consist of multiple-stage military and server-grade tests. TUF-certified alloy chokes, together with solid state capacitors and MOSFETs, ensure complete reliability even when the motherboard is subjected to intense use for prolonged periods. Four DIMM slots support up to 32GB DDR3 memory at frequencies up to 2400 MHz, aided by an eight-layered PCB that promotes faster memory performance while ensuring stability and compatibility with improved cross-component signal quality.
Sophisticated thermal management copes with extreme heat
TUF Series motherboards are designed to provide absolute stability and reliability under harsh operating conditions, and feature sophisticated thermal management to handle extreme heat. Both the Northbridge and Southbridge use dual-heatpipe heatsinks with CeraM!X micro-ridged coating that increases the effective heat dissipation surface area by around 50%.
SABERTOOTH 990FX/GEN3 R2.0 also features TUF Thermal Radar, which uses multiple heat sensors across the motherboard for real time temperature monitoring. Independent and automatic fan speed control then allows components to be cooled individually for maximum efficiency and operating stability.
The ASUS SABERTOOTH 990FX/GEN3 R2.0 motherboard will be generally available in the middle of March.
Last updated: Apr 7, 2020 at 12:07 pm CDT