UNIGINE Corp. has released a new, enhanced version 4.0 of Heaven Benchmark, the GPU intensive benchmark that gained massive popularity among overclockers and hardware manufacturers for hammering their graphics cards to the limits. This powerful tool can be effectively used to determine the stability of a GPU under extremely stressful conditions, as well as check the cooling system's potential under maximum heat output. It provides completely unbiased results and generates true in-game rendering workloads across all platforms, such as Windows, Linux and Mac OS X.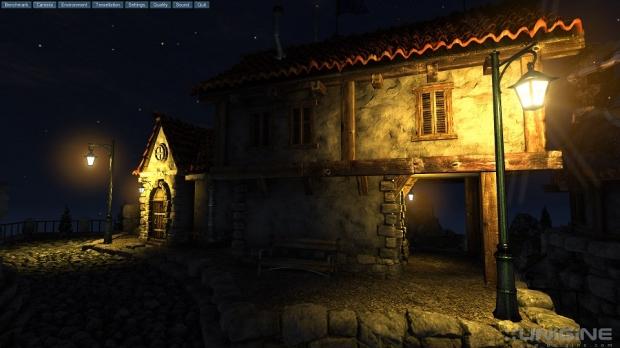 Heaven Benchmark immerses a user into a magical steampunk world of shiny brass, wood and gears. Nested on flying islands, a tiny village with its cozy, sun-heated cobblestone streets, an elaborately crafted dirigible above the expanse of fluffy clouds, and a majestic dragon on the central square gives a true sense of adventure. An interactive experience with fly-by and walk-through modes allows for exploring all corners of this world powered by the cutting-edge UNIGINE Engine that leverages the most advanced capabilities of graphics APIs and turns this benchmark into a visual masterpiece.
Key Features
Extreme hardware stability testing

Accurate results due to 100% GPU-bound benchmarking

Support for DirectX 9, DirectX 11 and OpenGL 4.0

Multi-platform support for Windows, Linux and Mac OS X

Comprehensive use of hardware tessellation, with adjustable settings

Cinematic and interactive fly/walk-through camera modes

Dynamic sky with volumetric clouds and tweakable day-night cycle

Real-time global illumination and screen-space ambient occlusion

Support for multi-monitor configurations and different stereo 3D modes
What's New in Heaven 4.0
Benchmarking presets for convenient comparison of results

GPU temperature and clock monitoring

Drastic improvement of SSDO

Stars at nighttime

Improvement of lens flare

New, improved version of UNIGINE Engine under the hood

Detection of multiple GPUs

Anti-aliasing support on Mac OS X

Enhancement of automation scripts in Pro version

New Advanced edition (see details below)

Russian and Chinese localization
Heaven Benchmark comes in three editions: Basic (available for free), Advanced and Pro, each aimed to meet the needs of different users. For more information, visit this page.
Last updated: Apr 7, 2020 at 12:07 pm CDT