NAXN series have been entry-level products of Enermax for several years. In the competitive global market, it wins all the battles and becomes unbeatable. Not only 80plus series for beginners, but also Bronze and Gold series for DIY enthusiasts, NAXN series can perfectly satisfy various demands from all groups. In 2013, in order to go further and reflect users' opinions, Enermax launches NAXN ADV certified by 80plus Bronze. Except for original premium NAXN DNA, Enermax adds in more mainstream features.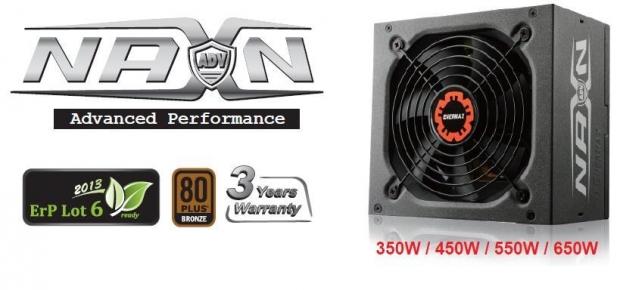 Three main features of brand new NAXN ADV:
Flexible cable management- 100% flat cables: NAXN ADV is designed with all flat cables including 24pin connector for M/B, PCI-E connectors for initiating graphic cards, and SATA & Molex connectors for peripheral components. 100% flexible flat cable design can facilitate system installation, reduce cable clutter, and enhance internal airflow and cooling performance. Definitely, NAXN ADV series helps you install your system fast and easy.

Stable performance- high quality electrolytic capacitors: Providing stable and sufficient power output has been the basic condition for Enermax. As a matter of fact, long-term stability is a key factor to select the power supply. NAXN ADV focuses on quality stability by high quality electrolytic capacitors, including the Japanese made main capacitor, to greatly enhance good performance of stability and safety.

Durable and high performance double ball bearing fan: In addition to provide sufficient airflow and ventilation, it is an ideal cooling fan of power supply to meet the picky requirements of silence from users. NAXN ADV matches special double ball bearing fan which is not only less noise but also more durable.
All the NAXN ADV series can provide the stable and powerful 12V single rail power output under all year-round temperature of 40℃/104℉ and 100-240VAC with automatic adjustment and active PFC for global usage. To provide the safety to your critical system, it employs multiple protection circuitry of OVP,SCP,OPP,DC UVP,SIP Protection. Additionally, the unique Cordguard can fix the AC cord tightly to avoid accidental shutdowns of your PC. It can further contribute to the green environment, while meeting ErP Lot 6 2013 standard by the high efficient 5V standby circuit, which can profit from reduced power consumption in standby mode (<0.5W in standby mode). As always, Enermax continuously provides the best and demanding products to meet users' needs, and keeps listening to the voice of the users and implement it into product design as commitment.
Last updated: Apr 7, 2020 at 12:07 pm CDT