Acer today announced cross-platform support for AcerCloud, the company's file sharing and media management solution, free to Acer customers. Consumers can now share, retrieve and enjoy their multimedia and data files using a variety of computing devices, regardless of which operating system they are running -- Windows, Android or iOS.
AcerCloud uses the free space on a PC's hard drive as cloud storage space. Users simply designate one of their PCs as their "Cloud PC," enabling them to use the available hard drive space on their own PC, giving them security and full control over their storage needs.1 And unlike other cloud solutions, consumers won't receive constant reminders about exceeding capacity with solicitations to pay for more storage.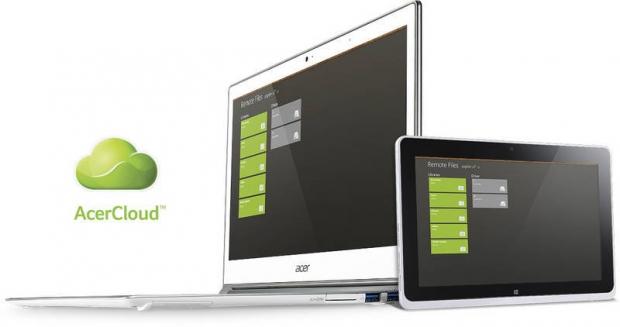 "With AcerCloud, Acer now supports free file sharing between all of the key mobile devices, adding tremendous value to Acer customers," said Acer President, Jim Wong. "AcerCloud greatly simplifies our customers' ability to manage all of their digital assets across all of their devices, regardless of platform."
Remote Access and Wireless Connectivity - Anytime, Anywhere
Users can also use the new "Remote Files" application for direct access to any of their Windows PCs from any of their other devices.2 They can upload and download files on any Android, iOS, or Windows device, whether at home or on the road, using Wi-Fi or their cellular network service.
Other enhanced features of AcerCloud include:
AcerCloud Docs - Effortless Portability
A feature especially convenient for professionals, AcerCloud Docs enables users to push their Microsoft Office documents to any of their Windows, Android or iOS devices. For example, a document edited and saved on a PC will be pushed to AcerCloud and available for download and viewing from any of their other devices wirelessly and automatically. These files will be synced at AcerCloud and available for 30 days from the day files were modified. There is no limit to storage capacity.
PicStream - Instant Picture Streaming
PicStream allows consumers to push all their photos to any of their Windows, Android or iOS devices at anytime, anywhere. They can take pictures with their smartphone or tablet, and view them instantly on any of their other devices. These pictures will be synced at AcerCloud and available for 30 days from the day the pictures were taken. Like documents, there are no limits for storage capacity.
clear.fi - Enjoy Music and Photos Anywhere on All Devices
With AcerCloud clear.fi, consumers' multimedia libraries are available for managing and enjoying on any device; users can manage their pictures on their PCs and view them on their smartphones and tablets.
In addition, a user's complete music library is available and can be streamed or downloaded and enjoyed on any device running Windows, Android or iOS, from any location.
Availability and Pricing
The new version of AcerCloud will be available for online update starting in January 2013, and will be bundled on all Acer consumer PCs starting in Q2 2013.
Last updated: Jul 27, 2022 at 03:42 am CDT