Vaxjo, Sweden - December 11th, 2012 - Mionix, the Swedish manufacturer of professional high-end gaming accessories today unveiled the new NAOS 8200 high performance gaming mouse.
"The new NAOS 8200 is by far the best product we've ever created. Powered with a 32-bit ARM-processor, the latest laser sensor technology and this together with the sleek award winning ergonomic NAOS design. The NAOS 8200 is a redefining moment in gaming accessories" says Peter Nygren, CEO at Mionix.
The combination of high-end components and the ergonomic Mionix NAOS shape makes the Mionix NAOS 8200 the new standard for high-end gaming mice. Stunning LED colour customisation and lighting effects allow for a personal tailor made appearance. The 32-bit ARM processor is the engine behind the 8200 DPI laser sensor that provides the most accurate and fast gaming experience making the NAOS 8200 the only option for even the most demanding gamer.
FEATURES
Truly ergonomic design
Award winning truly ergonomic design with support for all five fingers.
Lighting fast processor
The 32-bit ARM processor running at 72 Mhz is the powerful engine to power it all.
8200 DPI laser sensor
Remarkable tracking performance built for gaming.
128 kb built-in memory
Bring your settings and recorded macros with you stored into one of 5 profiles.
Customizable LED lighting system
Personalize your mouse with up to.16.8 Million colour options.
Stunning lighting effects
Solid, Blinking, Pulsating and Breathing effects running single colour or colour shift.
S.Q.A.T™ - Surface Quality Analyzer Tool
Surface Quality Analyzer Tool measures tracking quality of your gaming surface.
In-game 3 step DPI adjustment
Set 3 DPI values and switch easily between them in-game.
7 fully programmable buttons
The buttons can be assigned to any key, function, mouse command or macro.
In-game profile switch
Switch easily between stored profiles in-game.
Adjustable polling rate
Tune it all the way up to 1000 Hz and up to 1 ms response time.
Plug n Play
Completely Plug n Play, software needed only for configuration.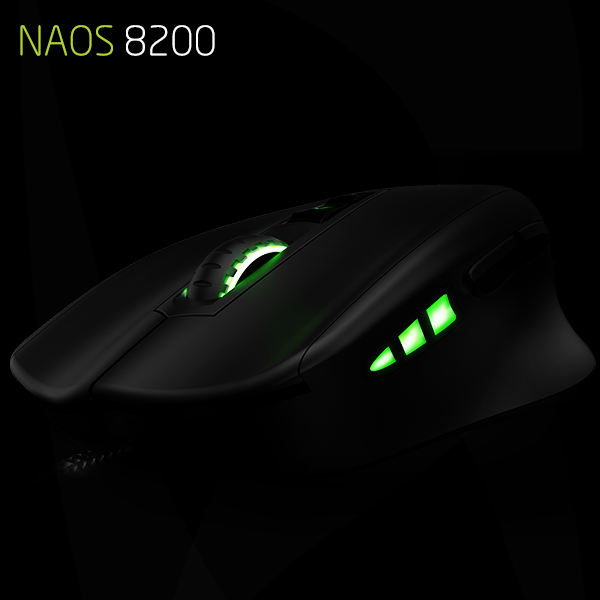 AVAILABILITY & PRICING
Mionix™ NAOS 8200 will be available worldwide to pre-order today and delivery in Decemeber 2012
Suggested retail price: $89.99 / €89.99 / £89.99 / 899 SEK
Last updated: Apr 7, 2020 at 12:07 pm CDT