AMD FirePro Server Graphics Redefining Supercomputing Performance
AMD has collaborated with the University of Frankfurt's Institute for Advanced Studies (FIAS) to deliver a new standard in power-efficient supercomputing with the SANAM supercomputer, securing the number two ranking on the latest Green500 List. The supercomputer will aid FIAS in quantum chromodynamics research.
Powered by 420 AMD FirePro S10000 dual-GPU server graphics cards based on AMD Graphics Core Next Architecture, the SANAM supercomputer redefines supercomputing with its incredible power efficiency.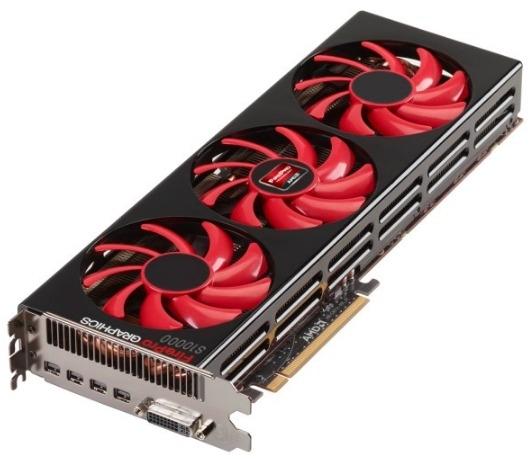 Capable of sustaining 420 TFLOPS, providing a system energy efficiency of over 2.3 GFLOPS per watt and performing 2,351 million calculations per second per watt, the SANAM supercomputer is shifting the industry mindset of determining performance through FLOPS to focusing on eco-conscious measurements like performance-per-watt. This latest AMD technology milestone comes two days after the announcement that AMD Opteron processors power the world's highest-performance supercomputer, "Titan," as ranked on the Top500's Supercomputer Sites list. In addition to the number two ranking on the Green500 List, the SANAM supercomputer can also claim the performance crown as the most powerful and energy-efficient supercomputer powered primarily by graphics processors.
AMD also introduced new reliability features that allowed the SANAM supercomputer to perform 3.6 quintillion double-precision operations during its Green500 run, further demonstrating how leading-edge supercomputing can be achieved through green technology. Moreover, AMD is solidifying its commitment to the future of the high performance computing (HPC) industry by announcing four emerging software tools that enable developers to use familiar programming methods to leverage AMD discrete graphics processing unit (GPU) and accelerated processing unit (APU) technologies.
"There is a massive shift in the HPC industry from defining supercomputing performance in terms of FLOPS to performance-per-watt and developing environmentally responsible technologies," said John Gustafson, senior fellow and chief product architect, Graphics Business Unit, AMD. "The SANAM supercomputer, equipped with AMD FirePro S10000 GPUs based on our Graphics Core Next Architecture, consumes a mere 180 kilowatts of power while running, which is incredibly low for a supercomputer. With solutions like the FirePro S10000 along with innovative software from AMD and technology partners like AccelerEyes, CAPS Entreprise and PGI we enable institutions engaged in cutting-edge research, like the University's work in quantum chromodynamics, to achieve massive compute performance and processor density, while staying within their power budget."
SANAM is a joint project of Frankfurt Institute for Advanced Studies and King Abdulaziz City for Science and Technology (KACST) in Riyadh, Saudi Arabia. As an integral part of the high-speed cluster (HSC) project, Adtech Global provided technical research to identify a systems solution that would not only work for the high-speed cluster HSC application, but could also provide long-term development and modifications opportunities.
"We focused on utilizing technologies which would provide the ability to continuously improve performance, lower costs and reduce power consumption in the future," said Rick Rozalsky, vice president of Global Business Development at Adtech Global. "We knew at the outset that the SANAM supercomputer we worked on with University of Frankfurt and AMD was going to be special, but knowing is one thing and seeing is another. We have worked on many high-end, custom solutions; however, it is always exciting to flip the switch and witness the incredible performance of today's supercomputers. The performance-per-watt capability of this system is simply amazing."
AMD continues to leverage the massive parallel processing capabilities of its GPUs to power the next breakthrough in scientific research. By enabling HPC developers to take advantage of GPU compute with familiar developer tools and programming methodologies that integrate OpenCL on the backend, AMD is working to grow and strengthen the software ecosystem for a broader base of developers to take advantage of GPU computing.
Four Maturing Tools for HPC Developers
Accelereyes ArrayFire: Accelereyes is dedicated to delivering fast, simple GPU software. The general availability release of ArrayFire, a GPU software acceleration library that provides hundreds of functions already optimized for speed by top GPU computing experts, allows for easy integration into C, C++, Fortran and Python applications;

Portland Group (PGI) Accelerator compilers: PGI Accelerator Fortran, C and C++ compilers target the AMD line of APUs as well as the AMD line of discrete GPU accelerators. PGI continues to work closely with AMD to extend its PGI Accelerator directive-based compilers. The goal is to generate code directly for AMD GPU accelerators, and to generate heterogeneous x64+GPU executable files that automatically use both the CPU and GPU compute capabilities of AMD APUs;

CAPS Entreprise HMPP compiler: CAPS Entreprise is a leading provider of solutions for deploying applications on "many-core" systems. CAPS source-to-source HMPP compiler is based on C, C++, and Fortran directives and supports OpenACC and OpenHMPP standards. With help from AMD, the compiler incorporates a powerful OpenCL parallel data generator;

AMD CodeXL: AMD CodeXL is a comprehensive tool suite that enables developers to harness the benefits of AMD CPUs, GPUs and APUs. It includes powerful GPU debugging, comprehensive GPU and CPU profiling, and static OpenCL kernel analysis capabilities, enhancing accessibility for software developers to enter the era of heterogeneous computing. AMD CodeXL is available as both a Visual Studio extension and as a standalone user interface application for Windows and Linux.
Last updated: Apr 7, 2020 at 12:07 pm CDT
PRICING: You can find products similar to this one for sale below.

United States: Find other tech and computer products like this over at Amazon.com

United Kingdom: Find other tech and computer products like this over at Amazon.co.uk

Australia: Find other tech and computer products like this over at Amazon.com.au

Canada: Find other tech and computer products like this over at Amazon.ca

Deutschland: Finde andere Technik- und Computerprodukte wie dieses auf Amazon.de
Related Tags