Rightware, the leader in embedded user interface (UI) technologies and benchmarking software tools, today introduced Browsermark 2.0 - a free to use benchmark that was designed from the ground up to measure and compare the performance of any browser on any internet enabled device, including: desktops, notebooks, tablets, smartphones and more.
In addition to measuring general browsing functionality tests like: page loading and page resizing, and conformance testing for HTML5 and network speed, Browsermark 2.0 also features 4 new areas of testing: WebGL, Canvas, HTML5, and CSS3/3D.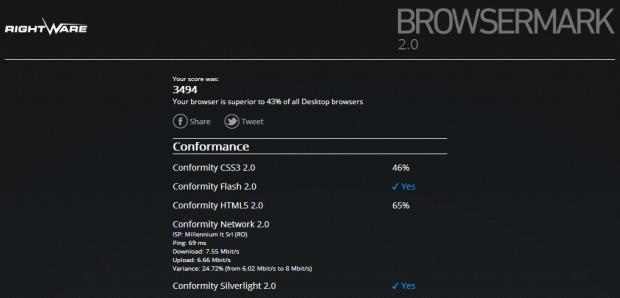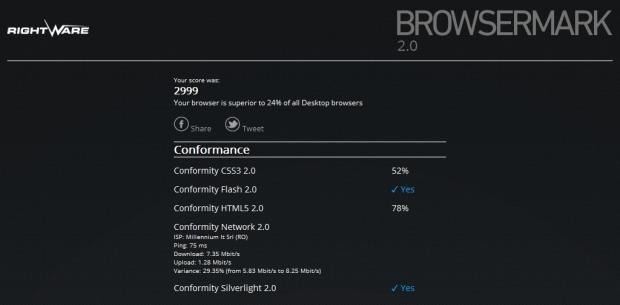 "We are all frustrated with the performance of our browser based on the device we are web browsing on, to the point that we continue to ask 'Am I expecting too much from my tablet?'" said Tero Sarkkinen, CEO of Rightware. "Browsermark answers that question for you. This simple to run test will help you decide which browser gives the best web experience for your device. In addition to measuring your own device, consumers can check out the latest results in our Power Board online database. We believe these two technologies will help to improve the user experience on every device."
Browsermark for years has been considered the gold standard technology in performance measurement. The software was designed to measure the browser performance in the context of JavaScript, HTML5, WebGL, CSS and many more. Browsermark provides the de facto benchmark approach to measure variety of different performance aspects of device's browsing capabilities, functionality and speed, and provides well-understood results for easy comparison of different device capabilities.
All of the data will be uploaded to Rightware's Power Board online database. Power Board gathers and maintains all of the official benchmarking data from all of the company's benchmarking tools. Power Board allows access to benchmarking data of graphics, system, multicore, browser and user interface performance of various different devices, running different operating systems and hardware.
Rightware is the provider of the world's most widely adopted benchmarking software for mobile and tablet devices and automotive systems. Rightware's famous Basemark products are developed within the industry's most impartial and transparent benchmark development program. This program was done in close cooperation with leading mobile phone manufacturers, semiconductor companies and operators to ensure the most reliable and objective benchmark products.
Last updated: Apr 7, 2020 at 12:07 pm CDT