Sydney, Australia, November 13, 2012 - LG Electronics (LG) has announced the local availability of its new range of In-Plane Switching (IPS) monitors. With superior picture quality and stylish design, the new IPS monitors will be of great interest for consumers looking to experience enhanced viewing pleasure.
LG's IPS technology delivers vivid and lifelike picture quality that is free from colour distortion through the combination of LED backlighting, Full HD resolution, and a smooth colour exchange. As it produces such consistent colour and contrast, with minimal colour shift at wide viewing angles, you can see the display clearly whether you're sitting, standing, or lying down.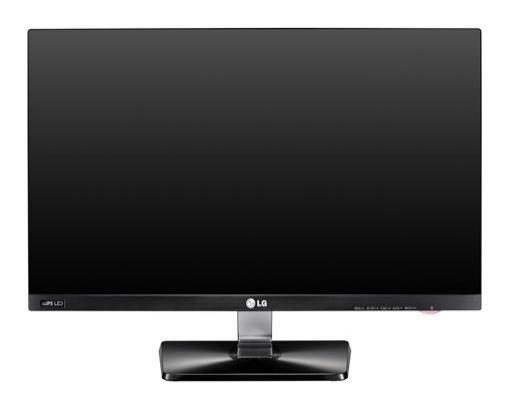 The IPS panel is available in the IPS7, M52 and D43 range. The hero series IPS7 offers LG's CINEMA SCREEN design and is the monitor of choice for Call of Duty: Black Ops II launch. The LG IPS M52 functions as a 2-in-1 solution, including a TV-tuner, monitor, and digital TV. The LG IPS D43 has LG's new IPS panel combined with LG's leading CINEMA 3D capabilities, making it perfect for 3D gaming and movies.
Alluring Design with Latest Connective Technology
The incorporation of LG's CINEMA SCREEN Design in the IPS7 results in an impressively thin bezel (1.2mm), practically eliminating visual distraction from the thick edges of plastic casings. In addition to the incredibly narrow bezel, the overall depth of LG's IPS7 monitors has been reduced to a mere 14.1mm.
The streamlined metallic stand creates an aesthetically sharp profile. LG's CINEMA SCREEN Design delivers in style what LG's advanced IPS technology provides in stunning picture quality. The clean lines and modern, minimal design add value to any space, while the lifelike colours and crisp tones create a visual experience that needs to be seen to be believed.
Addressing the need for easy connectivity, LG has provided an easy solution with today's newest technology, Mobile High-Definition Link (MHL). Through MHL technology, IPS7 series owners can easily connect mobile devices to the monitor with a single cable to the HDMI port, allowing photographs and movies stored on smartphones to be viewed on the larger monitor screen. The IPS7 series even charges connected mobile devices while users enjoy their favourite content.
"By combining LG's CINEMA SCREEN Design and MHL functionality with the industry's leading IPS technology, the IPS7 series is able to offer stunning design with leading edge viewing performance," said Lambro Skropidis, LG Marketing General Manager. "With the rapid growth in the number of mobile smart devices such as smartphones and tablets, the availability of content has greatly expanded. LG's IPS7 expands the user experience, enabling viewers to take full advantage of this content-rich environment."
Personal TV, Your 2-in-1 Solution
The LG IPS M52 features an in-built TV tuner, offering customers a 2-in-1 solution - TV and computer monitor in one. LG's Personal TV supports various multimedia formats such as HD broadcasting, DVDs, Internet, games, and photos. Perfect for those working in a studio, images are displayed in full HD for higher quality viewing. The monitors come equipped with LG's Infinite Surround Sound, which delivers powerful sound to create a more realistic listening experience. The range also includes picture in picture (PIP) that simultaneously displays multi screens, allowing users to watch TV and surf online at the same time.
3D Content at Your Finger Tips
The D43 range of monitors includes LG's CINEMA 3D technology, enabling customers to view 3D online content and instantly convert 2D content into 3D viewing format. When wearing LG's comfortable Cinema 3D lightweight and battery free glasses, users will be able to immerse themselves in 3D games and movies with LG's flicker-free 3D technology, which is easy on the eyes and provides clear, crisp, 3D picture with reduced blur.
The inclusion of LG's CINEMA 3D technology in the D43 model supports LG's Dual Play feature, which enables two players to see the full screen when playing against each other on split screen games.
Gamers Beware
The IPS7 series could be considered the monitor of choice for the launch of Call of Duty: Black Ops II, which hit shelves today. LG has partnered with Activision for the launch of the game, bringing together the best of LG's IPS display to create a lifelike experience with one of the world's most popular games.
The LG IPS range of monitors is now available from LG authorised retailers. Call of Duty: Black Ops II is available today.
Pricing:
IPS 7
IPS277L RRP: $499

IPS237L RRP: $299
D43
D2343P RRP: $329

D2743P RRP: $599
M52D
M2252D RRP: $279

M2452D RRP: $349

M2752D RRP: $449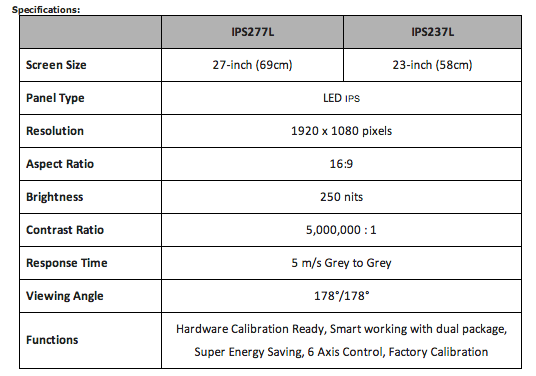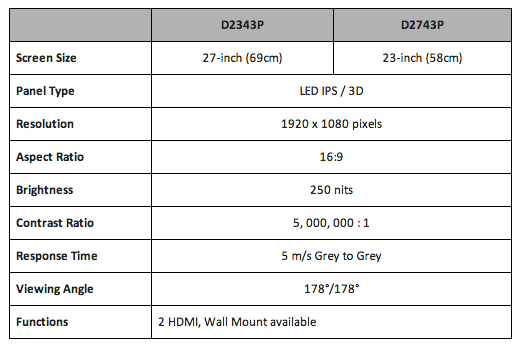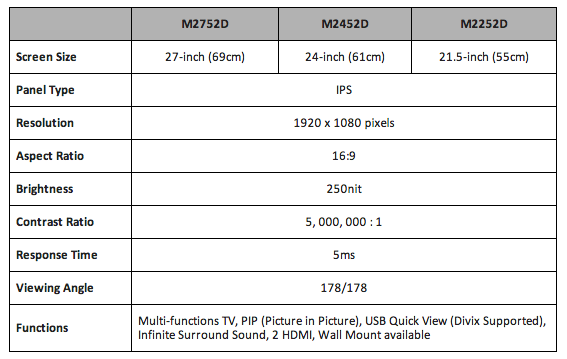 Last updated: Apr 7, 2020 at 12:07 pm CDT