Zerto today announces the general availability of Zerto Virtual Replication (ZVR) 2.0, building on the industry's first disaster recovery solution developed to protect tier-one applications in virtualized data centers and cloud environments. The new version of Zerto's award-winning software boasts several advanced features, including enhanced scalability, management and automation as well as the ability to replicate to and from multiple data centers.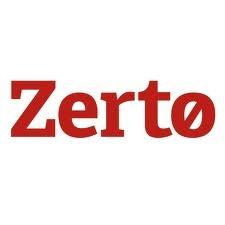 "The launch of Zerto Virtual Replication 2.0 into the marketplace has the power to change the way replication is conducted in the enterprise," said Ziv Kedem, CEO and co-founder of Zerto. "The new features complete the product vision we've had since launching the company last year, adding advanced replication features and support for public and private cloud implementations that are not available in any other DR product on the market."
Zerto Virtual Replication 2.0 builds on the company's award-winning hypervisor-based replication technology -- the only disaster recovery solution created specifically to work within virtual environments while maintaining all of the advanced replication features of an enterprise-class solution. ZVR 2.0 is also the first DR solution built specifically to work in private, public and hybrid cloud environments, and is fully integrated with VMware vCloud Director.
Zerto Virtual Replication 2.0's new features include:
Multi-site Replication, Protection and Migration: Enables the protection of data and applications in the main data center and also at branch offices. Workloads can be replicated from any site to any other site, and automatically recovered within minutes. Replication is also possible from many sites to one shared infrastructure, significantly reducing the cost of the BC/DR Solution.

Extended Protection and Recovery: ZVR now includes offsite cloning and backup. Companies can create a copy of VMs on the replication site for testing, backup or development, with no impact on the production environment. Additionally, the ZVR journal can now store up to five days of data, providing more options for failover, especially in the case of data corruption.

Improved Application-Aware and Virtual-Aware Replication: Features include automated updates of VMware vApp changes and support for VM boot order, ensuring successful recovery of complex applications.

Enhanced Reporting and Management: One installation of ZVR 2.0 gives complete visibility into BC/DR processes across locations and departments. New Recovery Time Objective (RTO) reports document actual results of BC/DR tests.

Cloud-ready Features such as VMware vCloud Director integration enable centralized management and fully automated failover and testing in the vCloud. Additional features include cloud management reports and infrastructure masking.
Zerto Virtual Replication 2.0 is available to both new and existing Zerto enterprise customers, many of whom are already in the process of implementing 2.0 features into their data centers.
Zerto also last week announced the Zerto Cloud Disaster Recovery Ecosystem (ZCE), featuring more than 30 founding Cloud Service Providers offering Cloud BC/DR services powered by Zerto [http://bit.ly/PU9GEk]. Members of the ecosystem provide ZVR 2.0's new cloud-ready features, meeting the data protection, replication and recovery needs of companies that are either building out private clouds or looking to protect applications they have deployed in the public cloud.
Last updated: Jul 27, 2022 at 03:42 am CDT