Point of View - premier NVIDIA graphics partner - and manufacturer of Android tablets, notebooks and other hardware, launches today the factory overclocked POV GeForce GTX 680 EXO.
While the GeForce GTX 680 is already good for massive performance it's never a bad thing to get the max out of your graphics card. The POV GeForce GTX 680 EXO runs over 10% faster on the base clock compared to the standard version. However, it's important to know that the NVIDIA GPU Boost technology will crank up GPU Boost clock according to your needs. When loading up a heavy game, the card will over-overclock itself to an impressive speed of 1176 MHz! See the specs chart below for the further specifications.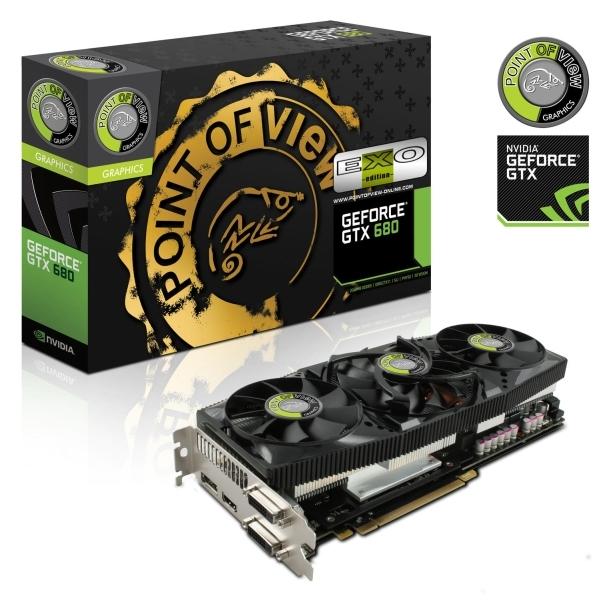 While the stock cooling solution performs excellent we have decided to do some efforts to improve the temperature and bring down the noise level. For the cooling solution of the GeForce GTX 680 EXO we have again decided to team up with Arctic Cooling - known for their silent and great performing coolers.
The result is a custom triple fan cooling setup with a huge performance increase! Also the backside of the card has been tweaked with an aluminum back plate to allow a better heat dissipation. The full card is slightly thicker than 2-slots and this beast of a graphics card is ready to show you what maximum performance really feels like.
This top-of-the-line graphics card is the best choice for all who want nothing but the best performance! The GeForce GTX 680 EXO by Point of View has excellent availability throughout stores in Europe as from today. Contact your POV retailer for more information or visit the "Where to Buy" section of our website.
Last updated: Apr 7, 2020 at 12:06 pm CDT