NAXN represents the entry-level class of Enermax power supplies. Good quality and stable performance at an affordable price - that is the philosophy behind the popular PSU series. NAXN includes several models with different features for various applications. The manufacturer now presents the second generation of NAXN power supplies.
NAXN Basic - The Power Supply for Professional System Building
NAXN Basic is specially designed for the needs of professional system assemblers. It is equipped with good-quality components and comes with an advanced protection circuit to ensure a long-during and reliable operation. As usual, Enermax applies a Multi-Rail Design: Two 12V rails provide the main system components like CPU or graphics cards with most stable voltages.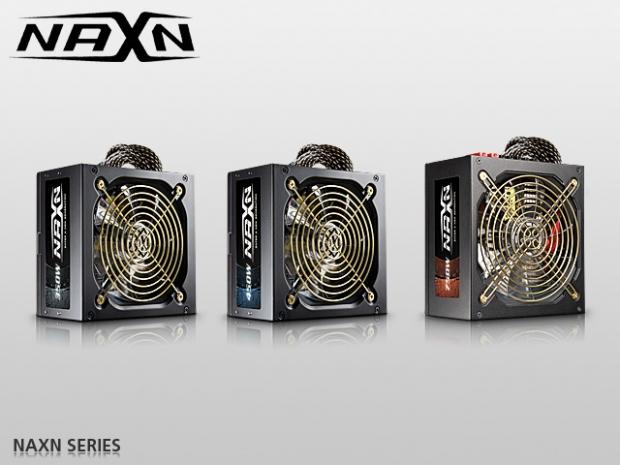 NAXN Basic further complies with the EU regulation ErP Lot 6 for computer systems. According to that, the standby power consumption of the complete system should not exceed 1W. Therefore, Enermax has improved the efficiency of the 5V standby rail by up to 20%. ErP Lot 6 is a basic requirement for systems sold within the European Union.
NAXN Basic includes models with 350 W and 450 W. Enermax now extends the product range with a new 500 W model (ENP500AGT). MSRP: £44.90 incl. VAT. It will be available in the mid of May 2012.
NAXN 82+ - The Power Supply for Passionate Gamers
NAXN 82+ includes several non-modular and modular models starting from 450 W up to 850 W. With up to four rock stable 12V rails and a wide variety of connectors, the power supplies support the latest hardware configurations. The higher-wattage models are delivered with at least two 6+2P (8P) PCI-E connectors to run high-end gaming system with one or more powerful graphics cards.
Enermax has equipped NAXN 82+ with several features that are usually reserved for the premium PSU series such as Revolution87+ or Platimax: The HeatGuard function keeps the fan running after shut-down in order to dissipate the remaining heat of the system.
Moreover, NAXN 82+ comes with a smart fan speed control that achieves a perfect balance between cooling performance and noise generation. The power supplies possess the 80 PLUS® Bronze certificate and reach up to 88% efficiency at 230V. The non-modular models further comply with the above-mentioned EU norm ErP Lot 6 for computer systems.
So far, NAXN 82+ includes two modular models with 750 W and 850 W. Enermax now introduces new non-modular models with 450 W, 550 W and 650 W. These three new power supplies are going to replace the previous NAXN 80+ models. MSRP: £59.90 incl. VAT (ENP450AWT-B) / £65.90 incl. VAT (ENP550AWT-B) / £75.90 incl. VAT (ENP650AWT-B). The new models are now available.
Last updated: Apr 7, 2020 at 12:06 pm CDT