HGST (formerly Hitachi Global Storage Technologies and now a Western Digital company) today announced the storage industry's first technology demonstration of a 12 gigabit per second (12 Gb/s) SAS solid state drive (SSD), representing the next performance step in the evolution of SAS, the preferred interface technology for enterprise servers and storage solutions. HGST is participating in the 12 Gb/s SAS demonstration at the SCSI Trade Association Technology Showcase on May 9, 2012, at the Hyatt Hotel in Santa Clara, Calif.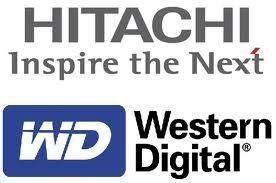 SAS SSDs and hard disk drives (HDDs), with their rich SCSI heritage, continue to be the building blocks of choice for enterprise and cloud storage. Enabling next-generation storage solutions, 12 Gb/s SAS is a broadly supported industry standard as it delivers twice the throughput compared to today's 6 Gb/s SAS solutions, while maintaining established enterprise protocols and attributes. It is also backward compatible with 6 Gb/s SAS for investment protection in current SAS infrastructures.
One of the enterprise features of today's SAS drives is a second interface port that provides additional bandwidth to the drive. With 12 Gb/s SAS on each of these ports, the drive can transmit and receive data at a rate of 12 Gb/s, resulting in a total available interface bandwidth of 4.8 GB/s per drive. With this speed, enterprise and cloud datacenters will be able to reduce latency by harnessing the ultra-high performance of SSDs or by improving the performance of large-scale HDD infrastructures.
"We have successfully achieved interoperability between our 12 Gb/s SAS drive and 12 Gb/s SAS HBAs and expanders from both LSI and PMC-Sierra," said Brendan Collins, vice president of product marketing, HGST. "Meeting these interoperability milestones is critical when preparing the industry for the adoption of a new interface standard. We will continue to promote broad industry support for 12 Gb/s SAS, including our sponsorship and participation in the SCSI Trade Association Technology Showcase on May 9."
"Since the inception of SAS, LSI has delivered an industry-leading portfolio of SAS-based products," said Bill Wuertz, senior vice president and general manager, RAID Storage Division, LSI Corporation. "As the preferred enterprise interface of the future, 12 Gb/s SAS will be essential to unleashing the full performance potential of SSD storage solutions to help datacenters and cloud environments contend with massive data growth and accelerate application performance. With our ongoing validation processes and compatibility testing with HGST, we are paving the way for a smooth industry transition and market adoption of 12 Gb/s SAS solutions by 2013."
"PMC's 12 Gb/s SAS protocol controllers, RAID-on-Chip (RoC) controllers and expanders enable breakthrough performance and scalability for next-generation server and networked storage systems," said Derek Dicker, vice president of marketing for PMC's Enterprise Storage Division. "We have been working closely with HGST on interoperability testing, and the high-performance benefits of our 12 Gb/s SAS solutions, coupled with HGST's 12 Gb/s SAS drives, will enable a new generation of cutting-edge, scalable tiered storage for corporate and cloud datacenters."
Last updated: Apr 7, 2020 at 12:06 pm CDT