BIOSTAR MICROTECH INT'L CORP., BIOSTAR Group, famous for high performance motherboards, graphics cards, industrial computing systems and computer peripherals, has launched the new TZ77XE3 motherboard based on the new Intel Z77 chipset. This motherboard supports Intel's 3rd and 2nd generation Core i7 and Core i5 processors based on the socket 1155. It supports up to 32 GB of DDR3 memory in its four slots that features data transfer rates of DDR3 2000, the processor support 2 memory channels and setting the memory multiplier, allows selection of the channel speed. These clearly uplift the band width and boost the overall system performance. The board looks stylish with its black PCB and massive copper heatsinks with contrasting colour.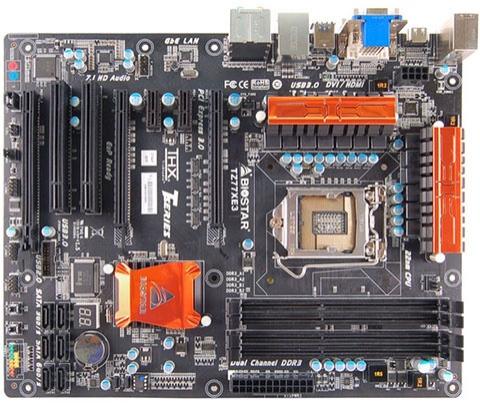 Multiple graphics cards are supported for excellent gaming performance with NVIDIA SLI or ATI CrossFireX supporting up to four graphics output at a time. It also supports 3D video output using the HDMI port compliant with version 1.4. Virtual Universal MVP powered by Lucid Virtu GPU virtualization, makes your PC respond faster, smoother and look better, with low power consumption by intelligent reduction of redundant rendering tasks using the optional Hyperformance feature.The 13-phase power design provides rock-solid stability while overclocking the system, while the 100% solid capacitors last much longer than ordinary capacitors, thus increasing the life of the motherboard. A Rapid Switch 2 is a set of switches present on the motherboard to easily shut down and restart your system, while Rapid Debug 3 LEDs indicate information code indicating the current state of the system, which can be useful for debugging errors.
In addition to four SATA 3 Gb/s ports, there are four more SATA 6 Gb/s ports for faster storage devices. Peripheral and storage devices can be connected to the six USB 2.0 High Speed and three USB 3.0 Super Speed ports, and also to the eSATA connector. Home theatre enthusiasts will definitely dig the7.1-channel HD audio THX TruStudio PRO feature of this mobo because it can recreate theatre-like sound right in your living room with the latest Blu-ray titles. Puro Tone ensures 110dB SNR (Signal to Noise Ratio), which basically means the audio enthusiast can enjoy pure audiophile-quality HD audio with almost no noise.
Some of the other features of the TZ77XE3 are BIO-Remote 2 Technology, which lets users control the PC remotely, using an Android mobile or Apple device. Power consumption is kept in check by BIOSTAR G.P.U. (Green Power Utility) Technology, while overclocking is handled by BIOSTAR Toverclocker utility. Charger Booster technology can charge your Apple devices up to 42% faster. BIO-Flasher helps effortlessly update your BIOS from any connected storage drive, while BIO-ReLife Technology can recover the system from a USB flash drive even if the BIOS gets corrupted. Users can get easy technical support using the eHot-Line utility, which automatically and instantly sends support request to BIOSTAR Globe tech support. The low distortion audio design reduces high frequency noise generated by a motherboard. One independent capacitor per channel handles the occurring noise. Clean Tone 2 delivers a signal to the noise ration over 98dB which perfectly fits into the windows 7 OS environment.
Last updated: Apr 7, 2020 at 12:06 pm CDT