Palit Microsystems Ltd, the leading graphics card manufacturer, announced a brand new Jetstream series at the GeForce GTX 680 The Palit Jetstream series of graphics cards features innovative cooling and an optimized product design to deliver gamers the ultimate gaming experience. As the latest and most powerful GPU in the series, the Palit Jetstream GeForce GTX 680 Jetstream guarantees gamers cutting-edge performance and an explosive new gaming experience.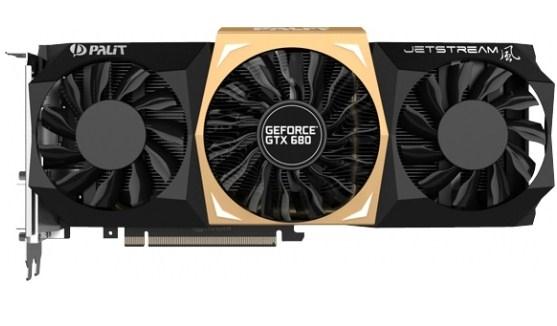 The factory overclocked Palit GeForce GTX 680 Jetstream is at boost clock 1150 MHz that is +92 MHz than the standard speed and 2GB GDDR5 memory clock is set at 6300 MHz (+292 MHz higher). Equipped with the Jetstream cooler and optimized product design, Palit GeForce GTX680 Jetstream performs 12.5% higher at 3DMark11 Xscore and average 10% higher among all hot gaming titles.
In addition, Palit GeForce GTX 680 Jetstream uses 6+8 PCI-Express power connectors to gain extra power and equipped with DrMOS and 6-phase PWM to make current circuit more stable and efficient which maximum the overclocking potential. With new Jetstream thermal design features, the noise level is 9dB quieter and the temperature is 8°C cooler. Palit GeForce GTX 680 Jetstream is absolutely the first and the best choice for enthusiast gamers.
Palit GeForce GTX 680 JetStream Unique Features:
Triple Fan
A Triple Fan design offers triple the cooling performance, and combined with the 8CM-9CM-8CM Smart Fans, heat is effectively drawn away from hot spots.
LED Lighting
Fancy blue LED lighting on the Palit Jetstream's thermal solution provides ambient lighting to further immerse gamers into the gaming world.
TurboFan Blade
Inspired by the power of jet engines, the TurboFan Blade is designed to improve cooling performance by generating a powerful air stream and air pressure.
DrMOS
DrMOS, originally only available for high-end server CPUs, is now available in all its glory in the next generation of Palit graphics cards. DrMOS offers high current circuits, low noise operation, and effective reduction of heat generation.
6-Phase PWM
Unique 6-Phase PWM design reduces max current load to stabilize the voltage level and improve overclockability.
Simultaneous 3 X DVI monitor support
With its optimized video output, the Palit Jetstream supports 3 DVI connections using a single graphics card. *through HDMI-DVI dongle
Optimized Air Flow
The 8CM-9CM-8CM Smart Fan system consists of three fans with alternating blade rotations. Each adjacent fan rotates in a different direction to reduce airflow conflicts and effectively improve overall cooling performance.
NVIDIA GeForce GTX 680 GPU Features:
Microsoft DirectX 11 Support
DirextX 11 GPU with Shader Model 5.0 support designed for ultra high performance in the new API's key graphics feature, GPU-accelerated tessellation.
NVIDIA 3-way SLI Technology
Industry leading NVIDIA SLI technology offers amazing performance scaling in games across up to three GPUs.
NVIDIA PhysX Technology
Full support for NVIDIA PhysX technology, enabling a totally new class of physical gaming interaction for a more dynamic and realistic experience with GeForce.
SXM
Next generation streaming multiprocessor built from the ground up for incredible performance and power efficiency.
NVIDIA GPU Boost Technology
CUDA technology unlocks the power of the GPU's processor cores to accelerate the most demanding system tasks such as video transcoding, physics simulation, ray tracing, and more, delivering incredible performance improvements over traditional CPUs.
NVIDIA 3D Vision Surround Ready
With a single GeForce GTX680 you can expand your PC games across three displays in full stereoscopic 3D for the ultimate "inside the game "experience . NVIDIA Surround also supports triple screen gaming with non-3D Vision monitors. Add in a fourth accessory display to get access to your email, web , or other applications while you game.
NVIDIA FXAA Technology
Shader-based anti-aliasing technology available from the NVIDIA Control Panel that enables ultra-fast anti-aliasing in hundreds of PC games.
NVIDIA TXAA Technology
Support for new temporal anti-aliasing technique that delivers the ultimate combination of image quality and performance.
NVIDIA Adaptive Vertical Sync
Dynamically enables vertical sync based on your current frame rates for the smoothest gaming experience.
PCI Express 3.0
Designed for the new PCI Express 3.0 bus architecture offering the highest data transfer speeds for the most bandwidth-hungry games and 3D applications, while maintaining backwards compatibility with existing PCI Express motherboards for the broadest support.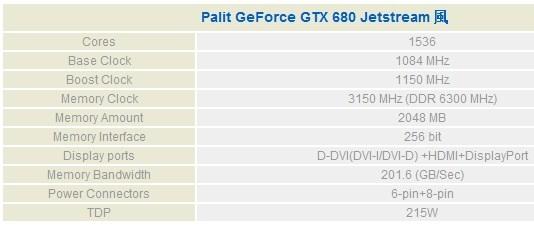 Last updated: Apr 7, 2020 at 12:06 pm CDT