As part of the Intel Embedded Alliance, Thecus has precedence and access to a multitude of Intel prototypes and the latest technologies. Working on those products for months now, Thecus is delighted to finally release its Vision Series.
The new N2800 and N4800 are going to be some of the first Intel(r) Atom(tm) D2700 based NAS! They will set the standard for what's best in the market to help you build a true multimedia center: USB 3.0, Dual Gigabit Ports, SD Card reader (N2800), Mini-UPS (N4800), etc.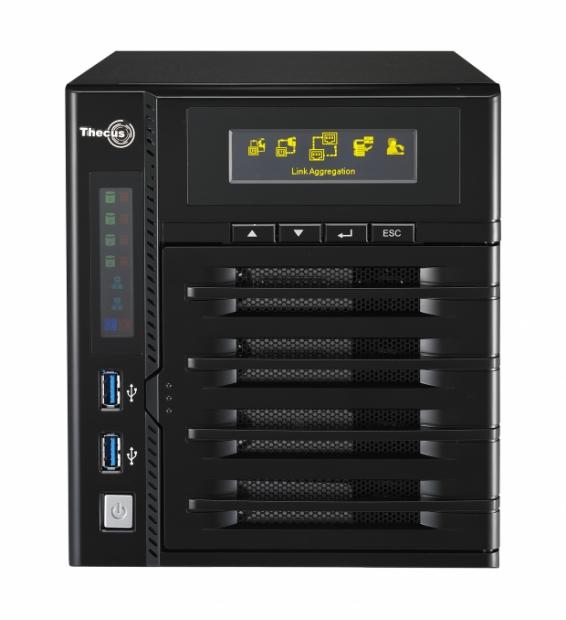 And the most important feature is the HDMI output. With Thecus Local Display module, it's now possible to connect the NAS directly to a monitor and control it through USB mouse/keyboard. Playing HD movies, browsing the web, controlling the NAS... everything is now possible directly from your TV! Thanks to this feature, Thecus is now creating a new standard among the NAS industry.
3rd Generation Intel(r) Atom(tm) CPU: silent power
New Intel(r) Atom(tm) CPUs are designed to work without fans. This will dramatically reduce noise and power consumption of the NAS.
Associated with large amounts of DDR3, the new Atom(tm) will provide much better performance. Multi-user environment, web hosting, intense backup, data encryption, application serving, heavy RAID computations, and HD multimedia streaming: welcome to the world of smooth multi-tasking!
HDMI Output: removing the middle man
After installing the proper module, just plug in a screen through the HDMI output, a mouse and keyboard on USB ports and the NAS is good to go. You don't even need computer to check on your NAS! With HDMI output, users can watch videos or browse the Internet directly from their NAS to a monitor.
Ideal for small installations and/or mobile users, this feature is designed to lower the total cost of ownership of its user's network architecture.
USB 3.0: from optional to mandatory
Thecus was the first to launch a NAS compatible with USB 3.0 for early adopters. Now that the technology has matured and more USB 3.0 devices exist on the market, it is time to embed it by default!
A glimpse at the new N4800 specifications:
- Intel(r) Atom(tm) 3rd Generation @2.13GHz
- 2GB of DDR3
- USB 3.0 port x2
- HDMI output
- OLED Screen
- Mini-UPS
A glimpse at the new N2800 specifications:
- Intel(r) Atom(tm) 3rd Generation @2.13GHz
- 2GB of DDR3
- USB 3.0 port
- HDMI output
- SD/SDHC/MMC card reader
For more information on N4800, go to:
http://www.thecus.com/product.php?PROD_ID=65
For more information on N2800, go to:
http://www.thecus.com/product.php?PROD_ID=66
For more information on Thecus, go to: http://www.thecus.com
Last updated: Apr 7, 2020 at 12:06 pm CDT