RIDGEFIELD PARK, N.J., February 17, 2012 - Samsung Electronics America, Inc., a market leader and award-winning innovator in consumer electronics, announced today that it is now shipping a new line of advanced SD and microSD cards that are ideal for digital imaging and mobile devices. The seven new models of SD and microSD cards are now available as part of either the High Speed Series or the Plus Extreme Speed Series, both of which deliver up to 24MB/sec read speeds on cards with a capacity of 4GB or higher.

Styled with a brushed metal design, Samsung's beautiful new line of SD and microSD cards are built with "Best-in-Class" performance. Able to meet the growing demand for high speed and high capacity memory in modern devices, the new cards are ideal for today's digital cameras, camcorders, smartphones and tablets. With (up to) 24MB/sec OR (max) read speeds, users can transfer 1GB of images in as little as 42 seconds. In order to ensure their reliability, Samsung has designed both lines of memory products to be waterproof, shockproof, and magnet proof, allowing them to withstand some of the harshest conditions. All models are guaranteed to survive up to 24 hours in water, withstand the force of a 1.6 ton vehicle (3,200 lbs), and resist up to 10,000 gauss (slightly less than the power of a medical imaging magnet).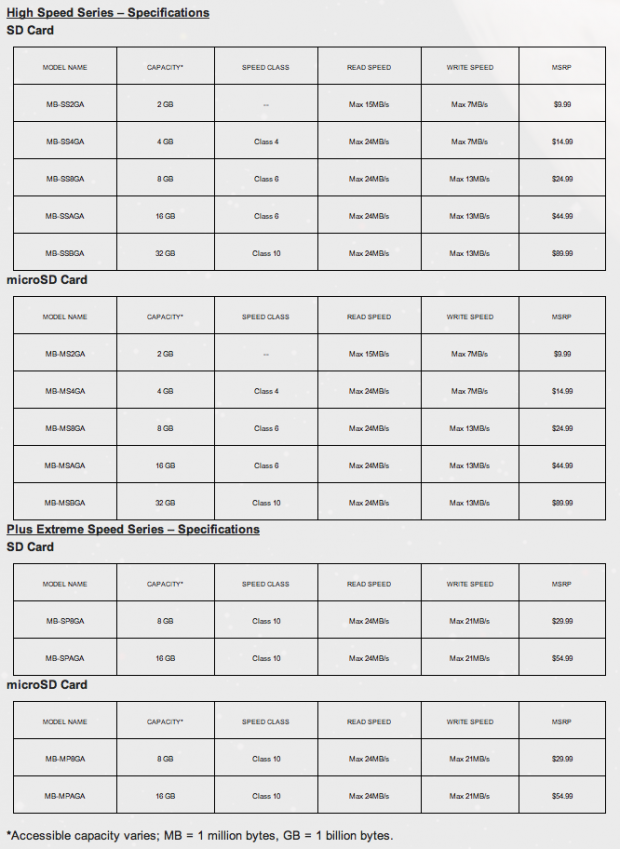 "It is our goal at Samsung to deliver superior performance, reliability and a stylish design across all of our product lines, including our memory line," explained Reid Sullivan, Senior Vice President, Samsung Electronics America. "Utilizing our 19 years of experience in memory manufacturing, we've built both lines of SD and microSD cards for performance. With read speeds of up to 24 MB/sec and max write speeds of 13 MB/sec (High Speed Line) and 21 MB/sec (Plus Extreme Speed Line), as well as meeting our '3-proof' reliability standard, these cards represent the ultimate in digital imaging and mobile computing storage. As the #1 memory supplier in the world and manufacturer of so many high performance portable devices, we are committed to ensuring consumers realize the best possible experience with those devices."
Last updated: Apr 7, 2020 at 12:06 pm CDT