ORIGIN PC announced today the exclusive availability of their new FROSTBYTE 360 liquid cooling system. With the FROSTBYTE 360 ORIGIN's professional overclocking teams are reaching speeds up to 5.2 GHz allowing them to routinely set new benchmark records and stay on top of the competition. Featuring silent pumps, a high efficiency triple 120 mm radiator, and zero maintenance, the FROSTBYTE 360 liquid cooling system allows for extreme overclocking in a more affordable solution. The award winning ORIGIN PC GENESIS configured with the FROSTBYTE 360 starts at $1,599.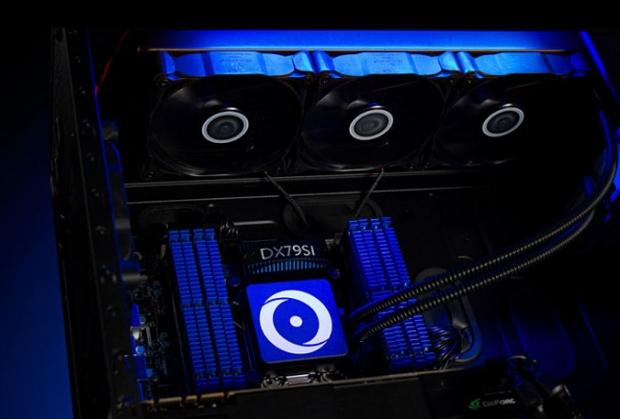 "Until now, extreme overclocking required hundreds if not thousands of dollars worth of components including pumps, radiators, coolant hoses, fittings, and expensive water blocks," said Kevin Wasielewski ORIGIN PC CEO and cofounder. "With the Frostbyte 360, a maintenance free liquid cooling solution, ORIGIN PC customers can enjoy top-end CPU performance at a fraction of the cost."
The ORIGIN FROSTBYTE 360 is the most cost-efficient high-performance liquid cooling system in the industry and it's backed by the best service and support. The FROSTBYTE 360 is a maintenance free solution and every ORIGIN PC is covered by free lifetime 24/7 toll-free technical support based in the U.S.
ORIGIN PC's Exclusive FROSTBYTE 360 Liquid Cooling System features:
- ORIGIN professional CPU overclocking up to 5.2GHz on multiple cores
- Micro-channel copper CPU block and 360 mm high efficiency copper radiator
- Embedded temperature sensor delivers the copper surface temperature with an accuracy of +/- 1C
- Ultra silent operation and exceptionally low weight
- Factory sealed, maintenance free operation
- Thermal resistance as low as 0.085 C/W
ORIGIN systems feature a 1 to 3 year free shipping and free part replacement warranty combined with the best in class integration, quality testing and support. ORIGIN PC offers a free life-time 24/7 phone and online service guarantee and each customer has a dedicated support team and free life-time labor for upgrade needs.
Last updated: Apr 7, 2020 at 12:06 pm CDT