Ushering the finest and most capable graphics card based on new AMD "Tahiti" 28nm GPUs, the ASUS HD 7970 DirectCU II TOP uses a factory-overclocked core and 3 GB of GDDR5. It is cooled by the exclusive DirectCU II, a dual fan thermal design with six copper heatpipes and a large dissipation area that leads to the lowest temperatures and quietest operation of any HD 7970 card.
ASUS DIGI+ VRM 12-phase digital power delivery comes to graphics cards improved with Super Alloy Power components, while overclockers are bound to appreciate the inclusion of exclusive VGA Hotwire hardware overvolting and GPU Tweak software tuning. The new cards further support adapter-free AMD Eyefinity 6.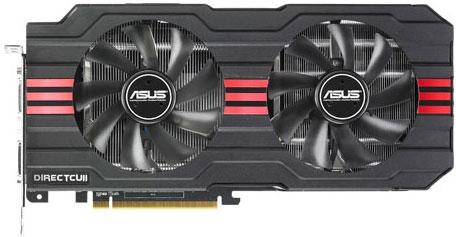 Overclocked to 1000 MHz - 75 MHz higher than reference
The HD 7970 DirectCU II TOP ships tuned to 1000 MHz, 75 MHz up from reference. This boost in clock speeds creates noticeable performance improvement, helping make greater use of the generous 3 GB GDDR5 video memory. The default increase in speed indicates the proprietary ASUS HD 7970 DirectCU II TOP design's amenability to overclocking and performance pushing, making better use of the 384-bit memory interface and PCI Express 3.0 standard, which works at up to twice the speed of PCI Express 2.0.
DirectCU II leads to the coolest and quietest HD 7970 card available
Further design and engineering improvements to the ASUS DirectCU II thermal architecture have resulted in its finest iteration yet. The new design consists of six all-copper heatpipes in direct contact with the GPU, in addition to a 20% larger dissipation area than any previous versions. Cooling effectiveness increases by up to 20% compared to reference, helping the card run with improved stability and reliability - critical to successful overclocking. Since the card stays so cool, the dual fans can operate at lower speeds, contributing to a 14 dB quieter than reference experience that helps gamers focus on the action instead of the noise.
First graphics card DIGI+ VRM digital power design with 12-phase Super Alloy Power
ASUS has brought its acclaimed DIGI+ VRM digital power delivery design from motherboards to graphics cards, with the HD 7970 DirectCU II TOP serving as the launch vehicle. DIGI+ VRM has been applied via a massive 12-phase power design that uses digital voltage regulators to increase power efficiency, widen the voltage modulation range, and improve overall stability and longevity. Power delivery components utilize exclusive ASUS Super Alloy Power formulation, which reinforces capacitors, chokes, and MOSFETs with better manufacturing and materials to increase heat tolerance and stress resistance. Cards with Super Alloy Power outperform reference variants and last longer, offering consumers better value.
Easy DIY overvolting with VGA Hotwire
Derived from technology first implemented in ROG motherboards such as the Rampage IV Extreme, VGA Hotwire links headers on the motherboard and the graphics card with simple solder points. Users can alter voltages directly on a hardware level, resulting in more precise modification. Core, memory, and phase (PLL) voltages can be readily altered, opening up new overclocking opportunities.
Intuitive tuning via the GPU Tweak utility
Users who prefer a friendlier interface can utilize the ASUS GPU Tweak suite, which offers fast tuning of numerous card parameters, including clock speeds, voltages, and fan settings. GPU Tweak can control up to four cards at once through AMD CrossFireX. It features GPU clock and voltage syncing, plus 2D/3D switching and mode locking for higher 3D benchmarks. Users get more accurate system testing and higher scores in competitive overclocking scenarios. The utility offers auto driver/BIOS updates to keep cards in optimal working condition, and a handy monitoring widget that provides highly detailed multi-parameter information on demand. ASUS has also worked closely with Techpowerup to integrate GPU-Z into GPU Tweak, offering even more reliable graphics card data and tracking.
First HD 7970 card with four native DisplayPorts for six-screen AMD Eyefinity
The input/output logic of the HD 7970 DirectCU II TOP takes full advantage of the power of the hardware, offering users access to dual DVI and four DisplayPort connectors. As a result, one card can drive up to six screens - achieving HD/4K resolutions with no additional adapters. The efficient power of top-end 28 nm GPU technology means visuals look better than ever even on extremely large displays.
Also in: all-new ASUS HD 7950 DirectCU II TOP ships overclocked to 900 MHz
The HD 7950 DirectCU II TOP features the DirectCU II dual fan cooler and offers consumers superior performance compared to the 800 MHz HD 7950 reference card. ASUS has begun developing more enhanced versions of the HD 7950 that will feature additional exclusive ASUS technologies, including DIGI+ VRM and Super Alloy Power. These cards will ship during the remainder of Q1 2012. Further announcements will be made as products become available.
Last updated: Apr 7, 2020 at 12:06 pm CDT