LG Electronics (LG) announced today that its newest collection of 3D glasses, including a pair designed by renowned eyewear designer Alain Mikli, will be introduced in the first quarter of 2012. The new 3D glasses -- the F310, the clip-on F320 and the Alain Mikli F360 -- are lighter and more comfortable to wear while upgraded design features such as curved lenses and clean frame structure have transitioned 3D glasses from burdensome requirements to stylish fashion accessories.
"Compared to active shutter glasses, LG's 3D glasses are far more comfortable to wear and much more affordable, making it possible for large groups and entire families to watch 3D programs and movies together," said Havis Kwon, President and CEO of the LG Home Entertainment Company. "LG is addressing two of the biggest barriers to 3D acceptance head-on and we're confident consumers will react favorably to our strategy in the coming year."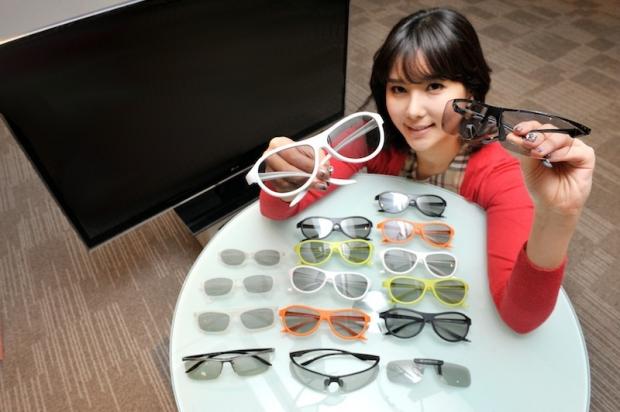 The F310 is characterized by a distinctive design that combines soft lines within a slim frame. Unlike many previous 3D glasses, the lenses have been curved to better accommodate the shape of the wearer's face, as well as to improve the overall CINEMA 3D viewing experience. The F310 weighs a mere 13.5 grams, making it 20 percent lighter than LG's previous design.
Another new item for 2012 includes the clip-on F320. Clip-on 3D glasses are unique to 3D TVs based on Film Patterned Retarder (FPR) technology, which is at the heart of CINEMA 3D TV. Compared to the previous generation clip-on 3D glasses, the F320 weighs 25 percent less at 5.5 grams.
Developed in collaboration with Alain Mikli, the F360's half-rim frame design is sportier and only weighs 16 grams. The lenses of the F360 have been curved and cover most of the wearer's face, deepening the immersive CINEMA 3D experience. The stylish F360, as well as all 3D glasses from LG, can also worn in theaters showing 3D movies since both CINEMA 3D and theaters utilize the same FPR and RealD technologies.
LG's share of the global 3D TV market increased from 7.6 percent during the first quarter of 2011 to 14 percent by September. FPR's unobtrusive technology played a key role in the company's success in 3D TVs, as uncomfortable and expensive glasses have been identified in numerous studies as being the number one reason consumers have been reluctant to adopt 3D in the home.
LG plans to continue the success it saw this year by sponsoring a series of 3D film and gaming events in 2012 in order to introduce the CINEMA 3D experience to thousands of participants and visitors.
Last updated: Apr 7, 2020 at 12:06 pm CDT