Acer America Corp., the number one provider of 3D displays worldwide(1), today introduced the Acer HR274H, a 27-inch 3D monitor featuring new advances in 3D technology. Featuring Acer's innovative chip-based solution, the new monitor can convert any 2D content to 3D, allowing anyone to watch their favorite movies, videos, photos and games in 3D.
With crystal clear 1920 x 1080 resolution, it is the ideal monitor for advanced 1080p full HD gaming on a PC, Blu-ray Disc console gaming, widescreen movie playback and multimedia and productivity applications.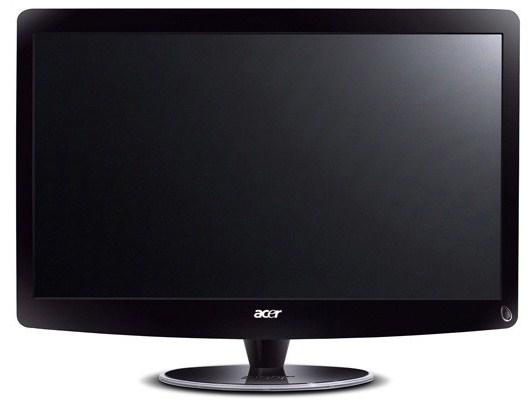 "The Acer HR274H delivers the highest level of realism available for fans of 3D games, TV programming, movies and photos," said Chris White, senior director of product marketing, Acer America. "Every detail is so clear, bright and rich in color, immersing yourself in your favorite game or movie has never been so utterly exhilarating."
Through a single HDMI cable connection, the HR274H monitor easily connects to any 3D-enabled PC, Blu-ray player, game console, cable set top box or camera. 3D enthusiasts can then enjoy a broad selection of high-quality 3D content, including more than 550 full-HD 1080p 3D games, more than 100 Blu-ray 3D movies and thousands of 3D videos and photos from YouTube and 3DVisionLive.com.
3D for Everyone
Acer's innovate chip based solution easily converts any 2D content to 3D in real time. There is no extra software required; the feature only needs to be enabled via the on-screen-display. This allows regular movies and traditional photos and videos to be enjoyed in a completely new way. In addition, it works with any graphics card, so popular PC games can now be viewed in eye-popping 3D.
Lightweight Polarized Glasses Reduce Eye Strain
Acer includes a set of polarized glasses that deliver vibrant 3D imagery without straining the eyes. In addition, the glasses do not require batteries and are made of composite materials for a lightweight comfortable fit, which makes viewing 3D content more convenient and comfortable than ever before.
Film-patterned retarder (FPR) technology in the Acer display and glasses enable a flicker-free 3D viewing experience. This reduces eye strain, fatigue, and headaches by separating left/right images so only one image reaches the left or right lens at a time. It also eliminates ghosting, since the display and glasses don't need to synchronize. Slightly larger than first generation 3D glasses, they provide a wider viewing area and increased external light blocking.
High quality moving images and a crystal clear viewing experience is provided through 2ms response times and an impressive 100 million:1 contrast ratio.
Eco-Friendly
The Acer HR274H monitor uses LED backlight technology, minimizing environmental impact while offering superior performance and durability. White LEDs do not contain the toxic substance mercury, making them safer for the environment. They also consume less power and are more durable than CCFL lamps, resulting in big savings. It is also RoHS compliant, ENERGY STAR certified and is packaged in recyclable materials.
Pricing and Availability
The 27-inch Acer HR274H 3D LCD is available for U.S. customers at leading retailers with an MSRP of $599. It includes a three-year parts and labor limited warranty.
1. Source: DisplaySearch, FY 2010
Last updated: Apr 7, 2020 at 12:06 pm CDT