Low profile card with single slot cooler is ideal for media systems
The SAPPHIRE HD 6670 series is the highest performing graphics card family in its extensive range that does not require an additional power connection, making it ideal for users looking to upgrade existing systems to be compatible with the latest games and applications. Now SAPPHIRE has introduced a new model in this series in a low profile format, but with a slim single slot cooler, believed to be the first and only graphics card available with his specification.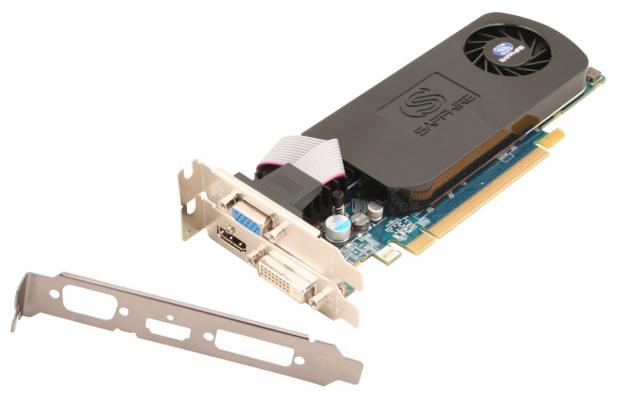 The SAPPHIRE HD 6670 Low Profile model has 480 Stream Processors and 24 texture processing units and like other models in this series, sports 1GB of the latest DDR5 memory. With clock speeds of 800MHz core and 1000MHz (4GHz effective) for the memory, it delivers the same performance as the other models, but in a low profile format with a single slot cooler, making it one of the fastest and most capable low profile graphics cards available today.
The output configuration is the versatile configuration of Dual-Link DVI, HDMI and VGA, and the card is supplied with both standard and low profile back plates, making it a good choice for media centres as well as general purpose PCs. It is ideal for use as the add-in card for Dual Graphics in an AMD Fusion APU based system, and native CrossFire support allows two or more cards to be used together for additional performance on a suitable CrossFireX compatible mainboard.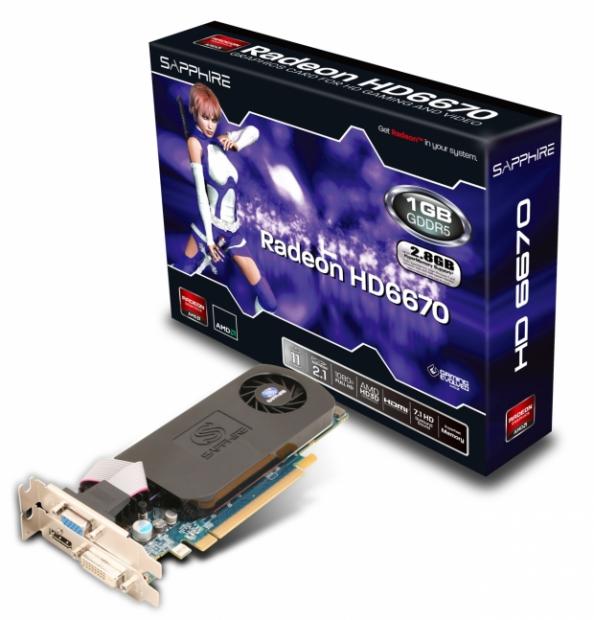 The SAPPHIRE HD 6670 Low Profile Edition delivers new gaming experiences and acceleration of next generation high performance applications in a low profile format. All of this comes with low active power consumption and Dynamic Power Management delivering super low-power operation in 2D or idle. As the core technology is low power, no external power connection is required, making this series ideal for system upgrades or mainstream PCs that do not have high end power supplies.
All products in the SAPPHIRE HD 6000 series deliver on-board hardware video decoding with the AMD UVD (universal Video Decoder) - now in its third generation and including support for MVC and decoding Blu-Ray 3D for stereoscopic 3D over HDMI 1.4a.
The SAPPHIRE HD 6000 series is fully DirectX 11 and Windows 7 compatible and also supports AMD's APP Acceleration for applications such as video transcoding and rendering tasks by executing instructions on the GPU architecture rather than the system CPU. The series is supported by AMD's Catalyst DirectX 11 WHQL certified graphics driver which enables all of the key DirectX 11 level features including DirectCompute 11 instructions, hardware Tessellation and multi-threaded communications with the system CPU.
For more details please visit www.sapphiretech.com
Last updated: Apr 7, 2020 at 12:05 pm CDT