Following the release of the already popular Bluetooth based Chill KB-1BT Micro Keyboard; Danish company Chill Innovation A/S has now also launched a 2.4G RF based version optimized for HTPC (Home Theater PC), Playstation 3 and Xbox 360. The new Chill KB-1RF Micro Keyboard comes factory pre-paired with the tiny Nano USB dongle included. Just plug it in your host, and you are in control.
The wireless Chill KB-1RF Micro Keyboard can also be operated in BIOS environment etc. Furthermore it supports Wake-on-USB, so you can turn on your PC right from the Keyboard (when supported by the host) - a highly welcomed feature among HTPC users.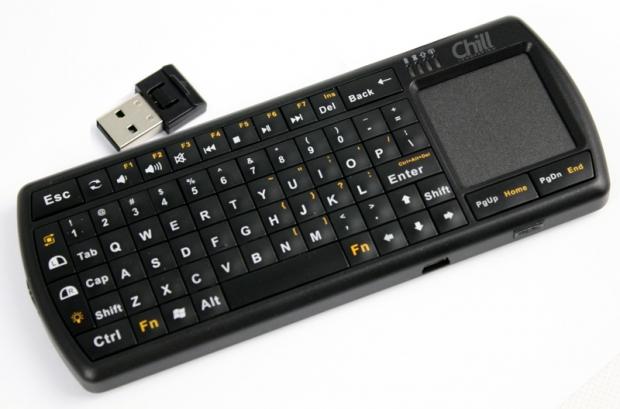 Compact design and high WAF (Wife Acceptance Factor)
The new Chill KB-1RF Wireless 2.4G RF Micro Keyboard does not exactly look like a traditional keyboard either. The compact size, which kind of makes you think of a regular TV remote, still holds both a fully functional 71 keys keyboard and an integrated touchpad for easy mouse navigation.
Just turn off the light
As a unique detail, the keyboard also comes with illuminated keys and even an integrated LED flashlight. Then it hardly gets much easier to operate and to locate your stuff when watching movies or during lectures in the dark.
The keyboard is also equipped with several multimedia keys for easy music and movie navigation. The Touchpad direction can even be rotated, so the keyboard can be held and operated with one hand like an ordinary remote.
For Presentation and Business use as well
All these features not only make this keyboard a perfect partner for Console and Home Theater use, but also for Professional Applications and Presentation use etc.
The small Nano USB 2.4G RF Dongle included provides up to 10 meter range, and is conveniently integrated into the keyboard for mobility. The Keyboard is even equipped with a 256 channel auto coding system, so you will avoid interference with other wireless equipment or when using multiple Chill Micro Keyboards simultaneously etc. The powerful High-Grade Li-Polymer battery contributes not only to the ultra slim size and weight, but also provides up to 30 days of operation.
The keyboard is currently available with Nordic (Denmark, Sweden, Norway, Finland), UK and U.S. layouts.
Last updated: Apr 7, 2020 at 12:05 pm CDT