[Taipei, Taiwan] Good news for all the Apple users out there! After the Afterburner Android App overclocking utility for mobile devices garnered the unanimous approval of the media and overclocking enthusiasts, MSI has now released the Afterburner App for the iOS platform! iPhone and iPad devices can now all download and install the Afterburner app from the App Store to wirelessly monitor and overclock graphics cards over a Wi-Fi network! From now until December 3, 2011, simply share your experience and photos from using the Afterburner app on your blog and you will have a chance to win a Lightning series graphics card or MSI tablet! With such great prizes, there's no need to wait, just pick up your iPhone or iPad now and experience the power of the Afterburner iOS app!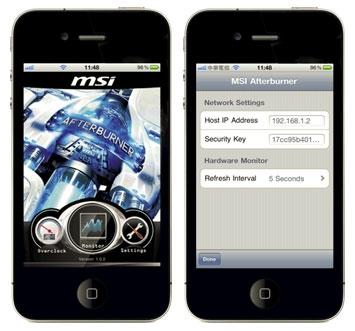 Graphics card overclocking utility compatible with millions of handheld devices
The Afterburner app was jointly developed by MSI and Nick Connors, a well-known programmer. By porting MSI's exclusive Afterburner overclocking utility to handheld devices, users can now monitor the core temperature, frequency, memory clock speed, and fan speed of their desktop graphics card over a WiFi connection. This delivers a richer and more interactive user experience. The Afterburner app can adjust a graphics card's core and memory frequencies, fan speed, and even the proprietary Triple Overvoltage function. The powerful features on the Android version have already won the unanimous approval of the media and users. Now that MSI has released an iOS version, this means that the hundreds of millions of Android or iOS smart phone/tablet users around the world can all now enjoy the convenience of overclocking through a handheld device.
Afterburner for iOS Review Promotion
From now until December 03, 2011, just download and install the Afterburner app from the APP Store to your Apple mobile device. Launch the Afterburner overclocking utility on your PC, then take a photo of the handheld device and computer screen both running the Afterburner software. Upload the photo to your blog then share your link on the promotion webpage for a chance to win an R6870 graphics card, the Lara Croft and the Guardian of Light game, and other great prizes. Apart from sharing their photos, participants can also give a 5-star rating to the Afterburner App in the APP Store and share their experience or thoughts on Afterburner for iOS. MSI will select the two lucky users that wrote the best reviews to receive an MSI N480GTX Lighting graphics card and an MSI WindPad 100W tablet PC! With such great offers, shouldn't you download the Afterburner App on your computer and share your experiences right away?!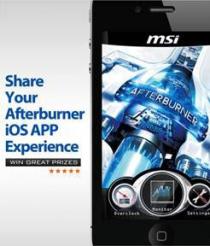 1. Afterburner App for iOS supports iOS 4.x and higher versions.
2. Download Afterburner App for iOS : http://itunes.apple.com/us/app/msi-afterburner-app/id472232633?mt=8
3. For details about the promotion, please visit: https://www.facebook.com/MSIHQFANCLUB?sk=app_201143516562748 .
4. More Afterburner overclocking utilities and Afterburner APP related information are available from the Afterburner website: http://event.msi.com/vga/afterburner/ .
Last updated: Apr 7, 2020 at 12:05 pm CDT