The process and anticipation of upgrading to the latest processor has always been some of the most exciting times for every PC enthusiast. But along with the excitement, users are often faced with various decisions such as which motherboard to get, is a memory upgrade needed or will a new CPU cooler have to be purchased? While Thermaltake cannot make most of those decisions for you, if you currently own or are planning to purchase any of the following Thermaltake performance coolers listed below, you will be in good hands. In order to better serve our customers, Thermaltake is proud to announce the Thermaltake FreeUp Program.
The upcoming Intel Sandy Bridge-E processors will be based on socket LGA-2011 as evident from the recent Intel Developer Forum (IDF) conference. Thermaltake is here to ensure that our current and future customers of Thermaltake cooling solutions will have access to the newest technology without the hassle of trying to mock up new mounting or purchasing a new cooler entirely. The LGA-2011 upgrade mounting hardware will be provided free of charge to anyone who has purchased a qualified cooler on or after September 1st 2011. Thermaltake will be incorporating the new LGA-2011 kit into all LGA-2011 compatible coolers in both retail and e-tail space once the Intel Sandy Bridge-E processor launch is confirmed, but this program is to ensure that anyone who supports Thermaltake brands by choosing the qualified cooler as their solution will have the LGA 2011 mounting available to them when they make their purchase or in the case that the cooler may have been in store before the changeover. Thermaltake wants to ensure you can upgrade and use your recently purchased cooler with no worries about future compatibility.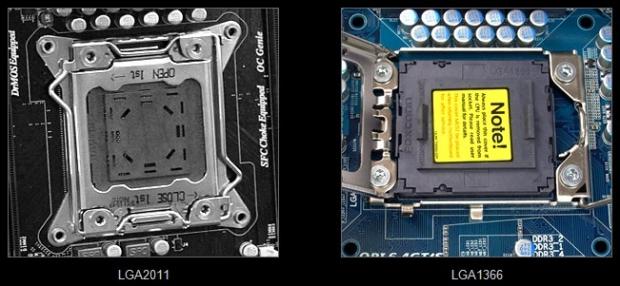 For those who have purchased a LGA 2011 qualified coolers prior to September 1st, 2011 and are planning on upgrading, Thermaltake will also be making the LGA-2011 kit available for purchase separately. This will ensure that no matter the timeframe, anyone can upgrade to the newest platform with a minimum amount of hassle.
Among various physical attribute changes, the most notable difference is that there are no "pass-through" holes for the mounting mechanism. On the LGA-1155/1156 and LGA-1366 motherboard, the mounting retention would pass through the motherboard and be retained by either plastic push pins or a variation of backplate and mounting screw combination depending upon the cooler used. With the LGA-2011 socket, the main load mechanism to retain the CPU in the socket also has threaded tabs which are where the cooler will be mounted. This will require a change to present cooler mounting for compatibility and Thermaltake has a solution to ensure you can upgrade to this socket with just a minor hardware change.
Intel LGA-2011 compatible coolers:
• Thermaltake Bigwater 760 Plus
• Thermaltake Frio OCK
• Thermaltake Frio
• Thermaltake Contac 30
To claim your free LGA-2011 mounting upgrade kit:
• To apply, please visit this page
• Submit required information to claim your mounting hardware kit
Terms and Conditions for the Thermaltake FreeUp Program:
• FreeUp product will be shipped shortly after launch of the LGA 2011 processor
• FreeUp eligibility requires proof of purchase of:
a. Qualified Thermaltake LGA 2011 compatible cooling solution
b. LGA-2011 compatible motherboard or processor
• FreeUp product can take up to 2 weeks for shipping depending upon location
• Qualified Thermaltake product must be purchased on or after September 1st 2011 to qualify for the FreeUp program
• The Thermaltake FreeUp Program is only available for customers in North America.
Last updated: Apr 7, 2020 at 12:05 pm CDT