Maximizing Cumbersome Towers' Portability while Going to LAN Parties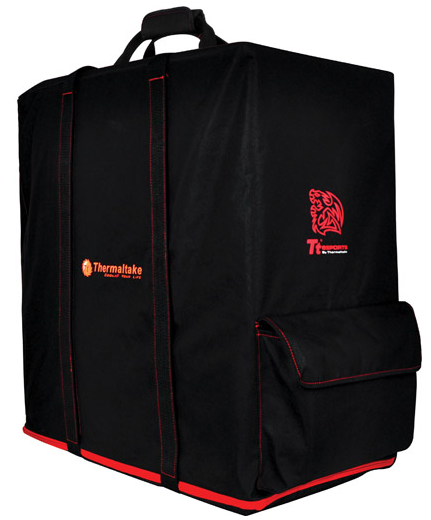 Taipei, Taiwan October 13, 2011-Thermaltake, being the industry pioneer brand in thermal solutions, carrying the corporate vision of "building Thermaltake Technology into a cultural brand for the enjoyment of entertainment, e-Sports, technology, and lifestyle" and continues to drive toward the corporate mission of "delivering the perfect user experience" in varies PC market segment, debuts the Transporter Carry Bag which offers LAN game party fanatics a burly chassis carry bag that maximizing portability for all types of full-tower and PC accessories with exclusive protection in various weather conditions.
The prominent features of the Thermaltake Transporter Carry Bag:
• Rain/Dust/Snow resistant to ensure your hardware travels safely and with style
• Designed to fit even the largest gaming chassis including the Level 10 GT
• Store your peripherals such as your keyboard, mouse & headset
• Holds up to 100kg/220lb so no matter how extreme the rig, we can handle it
• Red/Black styling to give an aggressive look while offering the storage you need
Maneuverability
The Thermaltake Transporter Carry Bag is a dynamic chassis carry bag for LAN party fanatics which support all type of full-towers when on the move. The all black design with the special material offers the flexibility and maneuverability to store fanatics' rigs or even to store itself away. With an unify designed strap and hand holder permit the Transporter to grasp up to 100 kilogram in weight without any hassles. The special material of polyester with polyurethane provide the resistance while fanatics exposed their important rigs in all kind of rough weather conditions, like rain, snow and dust, grant an extra protection while traveling.
Utilization
The Thermaltake Transporter Carry Bag made out with the special polyester material with the dimension of 600mm x 300mm x 600mm (L*W*H) has utilized one 300mm x 30mm x 600mm (L*W*H) large pocket and a small pocket of 300mm x 30mm x 230mm (L*W*H) on either side of the carrying bag which has the flexibility to lug all type of full-towers with its accessories like keyboard, mouse, headset, cables and much more.
"Transportation is a precise business," "if you need it to arrive safe and in one piece," - the Thermaltake Transporter.
For more details on Thermaltake Transporter Carry Bag please follow the below links.
Transporter introduction web page link: http://www.thermaltake.com/products-model.aspx?id=C_00001821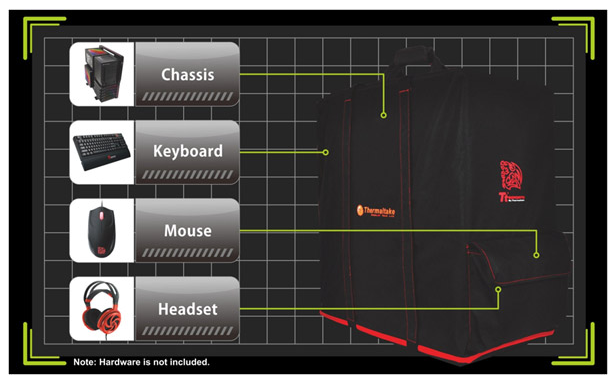 Last updated: Apr 7, 2020 at 12:05 pm CDT