A Brand New Line of Absolute Reliability
Taipei, TAIWAN, 10/7/2011 - ADATA Technology, a leading manufacturer of high-performance DRAM modules and NAND Flash application products, today announced the launch of its new Premier Pro™ DRAM modules.
The Premier Pro™ DRAM modules are designed for IT professionals who need to deliver rock-solid quality computer systems to their customers. The quality of ADATA Premier Pro modules are enhanced in two aspects. First, the modules are engineered for long term reliability. "When memory devices are not reliably engineered," said Ukyo Jeong, Vice President of DRAM product engineering at ADATA, "there is very high chance that the memory module will fail within the first year of usage." He continued: "a 1.6 to 3.2% rate of system failure due to problems with DRAM is not acceptable for IT professionals, and this is the typical failure range when a DRAM module uses components that are not subjected to burn-in process." All Premier Pro DRAM is completely burned-in before being deployed in Premier Pro modules." Second, the ADATA Premier Pro modules are tested for all the failure scenarios that ADATA has encountered through years of field application engineering experience, covering a long list of computer platforms developed and produced by the company's customers worldwide. "We perfected our test coverage over years of field experience," Ukyo added.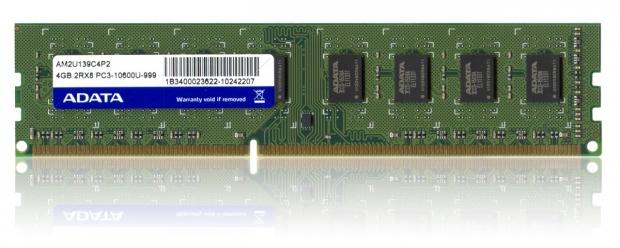 The Premier Pro series will be launched in DDR3 1333 CL9 and DDR3 1600 CL11 specifications, in densities of 2GB and 4GB.
The Premier Pro Series memory modules are backed by a limited1 lifetime warranty.
Note 1. 10 years in Germany, France and Austria. For the complete information regarding ADATA's warranties, refer to http://www.adata.com.tw/index.php?action=ss_main&page=ss_prowar&lan=en.
Availability
The ADATA Premier Pro Series DRAM Modules are now available through selected distributors and resellers. More information about ADATA's Premier Pro Series DRAM Modules can be found on the company's website at http://www.adata.com.tw/index.php?action=product&cid=6&step=1&lan=en.
About ADATA
ADATA Technology, the world's 2nd largest vendor of DRAM Modules, 3rd largest of USB Flash Drives (iSuppli, April 2011), and a Top 20 global brand in Taiwan, provides complete memory solutions, including DRAM Modules, USB Flash Drives, memory cards, solid state drives and portable hard drives. ADATA products are internationally recognized by Germany's iF Design Award, red dot Award, CES Best of Innovations Award, Japan's Good Design Award, Best Choice of Computex Award, and Taiwan Excellence Gold Award. The company's slogan of Love, Life, Dreams, embodies the ADATA brand and the role of innovative memory products in the human pursuit of universally cherished ideas. For more information, please visit www.adata-group.com.
Last updated: Apr 7, 2020 at 12:05 pm CDT