System bus load greatly reduced, with performance boosted by 33%
Taipei - The ever-evolving cloud computing landscape fuels not only the global demand for servers but also the growth of server memories. According to market research firm IDC, the global server market recorded a YoY increase of 17.9% for Q2 of 2011, with the entire shipping volume reaching up to 2.1 million units, a YoY increase of 8.5%. To address enterprises' demand for data transfer and capacity, Apacer Technology Inc., the leading memory module maker, introduces the new high-capacity (up to 16 GB) DDR3-1333 load-reduced dual in-lane memory module, or LRDIMM. By reducing the bus load, the storage system can run great in data computing while eliminating noise. The result is an even more reliable server storage environment, where computing is made more powerful and bulk data can be processed more efficiently.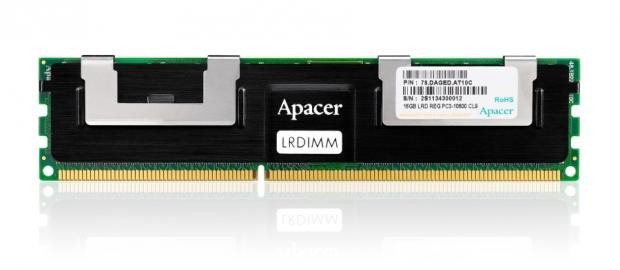 The just-launched DDR3-1333 LRDIMM supports the standard voltage of 1.5V for DDR3 memory, and can also run at the industry's lowest voltage of 1.35V. In addition to low power consumption, it also features performance 33% higher than Dual Rank REG DIMM, the main module of DDR3, with the system bus load reduced by 50% as well. If compared with high-capacity Quad Rank REG DIMM of DDR3, it even offers 75% less system bus load. This 16-GB DDR3-1333 LRDIMM has gone through stern reliability tests. In addition, its full compatibility with the next-generation server platforms of both Intel and AMD ensures that servers run stably.
Apacer has years of extensive experience in the server market and has developed a wide array of specifications and technologies for server memory modules. Apacer products have all gone through rigorous environment tests (extended temperature and high/low pressure testing for longer periods of time) and motherboard test. Currently they have gradually passed each OEM vendor's strict tests for ensured compatibility and stability when used in servers and network communication systems. Apacer is devoted to providing products of high reliability and compatibility as well as comprehensive professional customization service - all these facts have made Apacer the enterprises' prime choice among storage solution providers!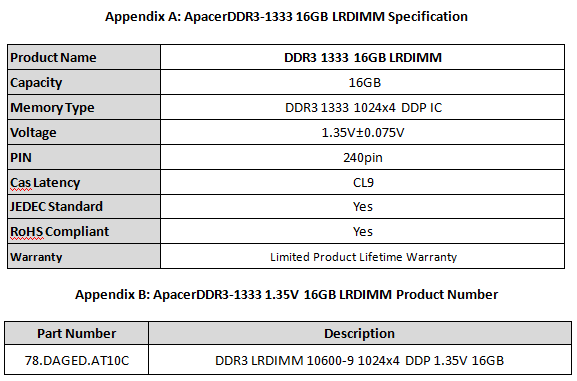 About Apacer
Apacer Technology Inc. offers a wide range of industrial SSD, digital consumer products and memory modules. Together with its broad R&D, design, manufacturing, and marketing strengths, it has become a leading global manufacturer in the industry. Since its establishment, Apacer has always followed its promise, "Access the best," to produce reliable, innovative products and services. Apacer supplies customers with high performance, reliable, high value memory modules and flash memory via a marketing network that stretches across worldwide distributors, product manufacturing facilities, and retail consumers. Apacer provides innovative, state-of-the-art digital storage products to store, record, and share the digital information crucial to their work and essential to their daily lives.
Last updated: Apr 7, 2020 at 12:05 pm CDT