Launching NVIDIA GT440 / GT430 and AMD 6670 / HD 6570 2GB All at Once
The rapid development of hardware technology allows a gradually widening differential in the proportional relationship between measurement and price. In recent years, there has been a fairly large decline in the technology industry, and memory and display cards have been the most apparent evidence.
As the measurement of LCD display cards continues to increase, the price is nevertheless declining over time. Under the great influence of the performance of desktop computer, there have been increasing numbers of consumers using one machine and duo or multiple screens. And in response to the user environment of big screen or multiple screens, the memory size of the display cards consequently plays a crucial factor.
Due to the trend of continued price cuts for large LCD display cards, Lantic has made the bold move of introducing a series of display cards that go along with the memory of 2GB DDR3. In the NVIDIA chip series, GT440 2GB DDR3 and GT430 2GB DDR3 are offered. And in the AMD chip series, HD 6670 2GB DDR3 and HD 6570 2GB DDR3 versions are offered. Supporters from different groups can all be satisfied.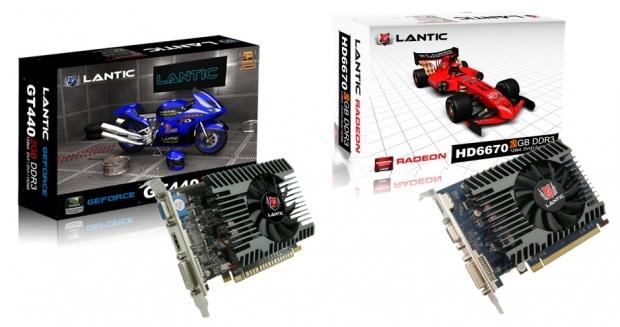 Lantic display cards offer various advantages with the exceedingly large memory that it carries:
1. Large-memory-size Lantic display card series are all equipped with three screen outlets of HDMI/DVI/D-SUM. It offers the capability of simultaneous output of digital and analog signals, and it also allows simultaneous setting of large or small screens of different resolutions. When consumers are using duo screens, they are able to work or chat with friends while at the same time enjoy high definition movies on the other large screen.
2. Display cards not only provide the function of display, the importance of GPU on films or sound file transfer becomes even greater than that of CPU. And during file transfer, the large-size memory in the display cards will be able to provide powerful support and greatly enhance file transfer speed.
3. The price of large LCD display cards has continued to decline, and Full HD films have also become more popular. Even the futuristic trend of 3D is also tightly related to large-size memory. Procedure on the screen shows that the stream processor in the chips first goes through molding and then proceeds to the handling of graphics and images. After the graphics and images are stored in the memory, they will go through digital-to-analog converter and output via chips to the display cards, i.e. becoming the images we see. And with the growing size of LCD display cards, the memory size of the display cards will most definitely need to increase so that enough frames per second (FPS) can be stored and the images can be more exquisitely and smoothly transferred.
4. The memory size needed for the material data, vertex data and other data in large-scale 3D games is increasing, and it is even nicknamed as the "killer of displayer cards". Evidently, larger memory size of display cards is undoubtedly the trend. The most direct advantage of the application of large-size memory is better anisotropic filter and anti-aliasing performance while playing games with a large volume of graphics. In this way, higher resolutions and better image quality are obtained. Moreover, when 3D games are loading data and when the memory of display cards is full, everything on the display cards would need to be cleared before reloading can be continued. When display cards with larger memory size are loading games, clearing is not necessary before reloading can be continued. To a certain degree, games' loading speed is accelerated and players' waiting time is reduced.
Based on the advantages abovementioned, it is evident that increasing memory size of display cards is not only a trend, but also presents practical advantages. Besides the price, the future possibilities of a high-tech product are definitely a key factor when people are making a purchase.
About Lantic Technology
Lantic Technology is a developer of 3D graphics processing technology. By drawing on its extensive past experience in Europe and around the world, Lantic seeks to help consumers overcome bottlenecks in technology. The company offers consumers a comprehensive sales and distribution network that will, in the future, be backed by a complete sales and support network. Lantic develops custom products tailored to meet consumer requirements on quality, price and service. With Lantic products, consumers can expect the best user experience and product guarantees. The perfect balance between performance, quality, price and service is the goal of Lantic as well as the pursuit of extreme performance and overclockability. Only the best materials and latest technologies are used to deliver the highest cost-to-performance ratios. With 24-hour customer support and courier pick-up throughout Taiwan, Lantic insists on the highest standards every step of the way.
Last updated: Apr 7, 2020 at 12:05 pm CDT