The world-renowned motherboard and video card manufacturer MSI has officially announced the all-new AMD Llano series motherboard - A75A-G55 today. In addition to continuing the motherboard advantages of the first model A75MA-G55 and scoring P1646 points for 3DMark 11's built-in display performance record, it also displayed MSI's superb R&D strength, crossing the OC Genie II technology onto the AMD Llano platform. There are no complicated settings, and it only requires one button (step) and one second to easily boost the system's overall performance by 110%.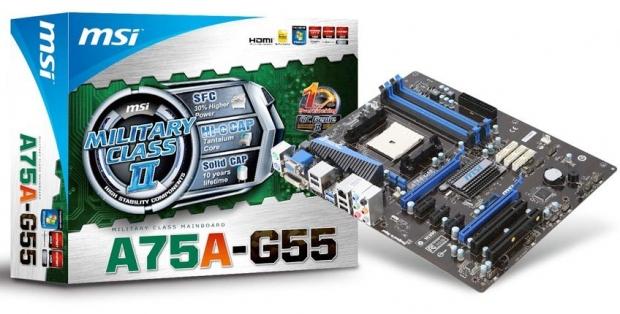 It is the simplest and easiest overclocking tool whether it's for beginners or advanced computer enthusiasts. In addition, different from the AMD Dual Graphics technology used by other manufacturers, the MSI A75A-G55 motherboard can even work with MSI's video card overclocking software, Afterburner, to increase performance. The overall 3D operation performance can be increased to a maximum of 390%, again showing the outstanding features and multiplied effects of MSI's motherboard and video cards.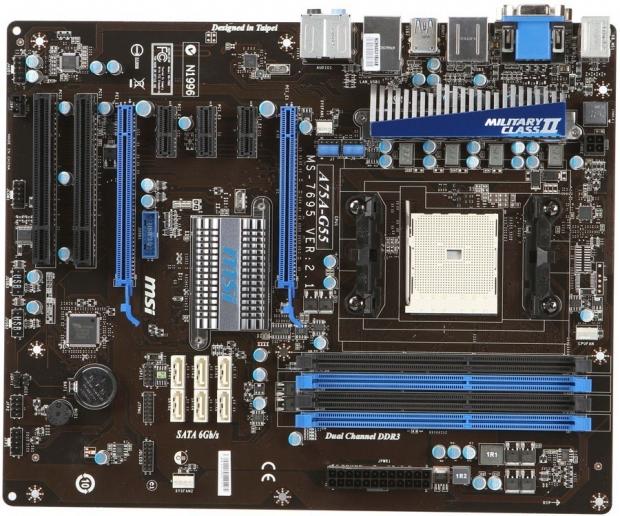 A75A-G55 uses MSI's second generation military class materials and parts that have passed military class certification allowing the motherboard to have the highest quality and the best stability. It is equipped with the ClickBIOS Concept, which allows enthusiasts to use the mouse to operate the BIOS. It also has a built-in native USB 3.0 and STAT 6GB/s interface. In addition, it can work with AMD CPUs that have a maximum of four cores and is equipped with a Radeon HD 6000 series display core processor (APU), which compares favorably to stand-alone video card's performances. Furthermore, it supports the newest DirectX 11 standards and can smoothly run current mainstream games such as DiRT 3, StarCraft 2 and WoW* etc. If you want to select an AMD Llano series motherboard with high quality, high performance and high convenience, MSI is your best choice.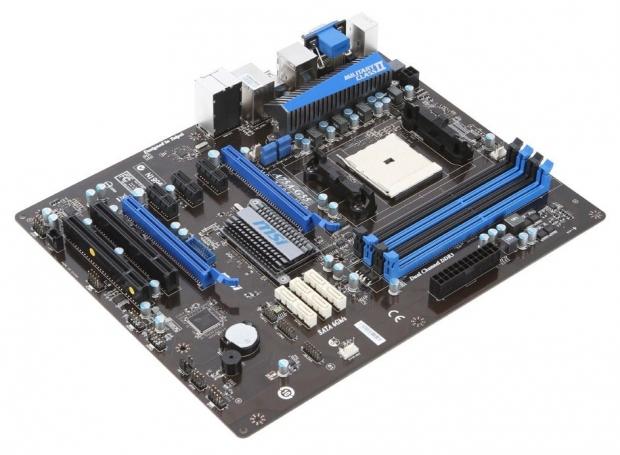 OC Genie II overclocking in one second: The easiest overclocking tool
MSI's AMD A75 series motherboard also supports the newest OC Genie II overclocking technology, enthusiasts can easily enjoy one-second overclocking fun whether the OC Genie II is started from the BIOS, which overclocking veterans are used to, or from the Control Center for beginners. The system's CPU, memory, or built-in GPU can immediately receive a performance boost of at least 110% with only one button. There is no need for complicated settings or complex overclocking knowledge. OC Genie II is the simplest and easiest overclocking tool whether it is for beginners or advanced enthusiasts.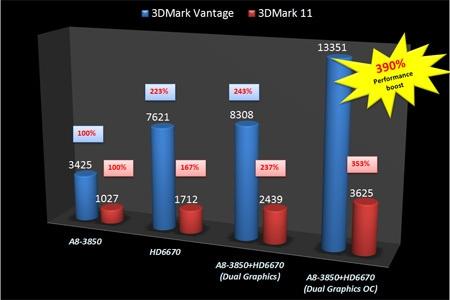 Awesome OC capability of Dual Graphics technology
The AMD A75 chipset supports the Dual Graphics technology. The GPU's computing power can be enhanced through the collaborative computing of specific stand-alone video cards and the APU. The AMD A75 series motherboard is equipped with MSI's R6770-MD1GD5 video card while the Dual Graphics technology is operating. In addition to displaying excellent compatibility, when the video card performance is boosted with MSI's Afterburner overclocking software, the 3DMark Vantage P-Score for running Dual Graphics surges from 8308 to 13351. When compared to the AMD A8-3850 APU's default score for built-in video cards - 3425, the game performance could be increased to a stunning maximum of 390%, completely exerting the AMD Dual Graphics technology to a maximum!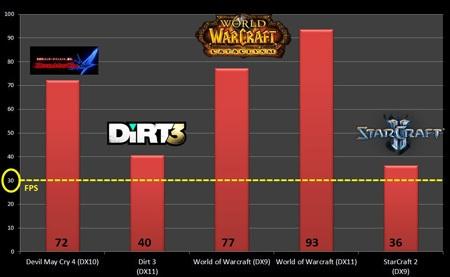 Second generation military class materials and parts: Guaranteed for the highest quality and stability
In order to provide consumers with the highest quality motherboard, the MSI Llano series motherboards also imported second-generation military class standard materials and parts. Not only did they pass the rigorous testing of impartial third-party laboratories and match the MIL-STD-810G test standards, they also demonstrated extreme quality and stability. Through the blessing of Hi-c CAP, SFC and Solid CAP, not only did it allow the product's overall lifespan to vastly increase, even if operating in rigorous environments under heavy loads for long periods, they still had excellent stability.
GPU that compares favorably against stand-alone video card performances
There is no need for the extra purchase of stand-alone video cards to smoothly play the current hottest DX11 games; MSI's Llano series motherboard supports AMD 4 core / Radeon HD 6000 stand-alone video card class APU. In addition to the ordinary work demands, it can even satisfy the general consumer's wish to be able to play current major games and experience the smoothness as if using a stand-alone video card. For example, when running StarCraft II (DX9), this year's car racing game series representative DiRT3, or the timeless World of Warcraft: Cataclysm under the mid-high material effects setting, users can enjoy the visual impact of all the smooth high resolution games. This allows the majority of users to easily advance to the next generation enthusiast platform without having to change power supplies or purchase additional stand-alone video cards.
The simplest and easiest Winki 3 tool software
Providing consumers with more convenient usage solutions has always been the goal MSI was striving for. And this time, MSI's Llano series motherboard also supports Winki 3, the simplest and easiest set of tools software, allowing you to quickly go online to browse web pages, type reports and edit photos, send instant messages to friends, voice chat, or even restore backed-up hard drive contents when the computer is malfunctioning. All this can be done as soon as you boot up, providing consumers with the most comprehensive free operating environment.
Native USB 3.0 & SATA 6Gb/s standards providing ultra high data transfer bandwidth
MSI's Llano series motherboard supports native USB 3.0 and SATA 6Gb/s high speed transfer standards, which can reach traditional USB 2.0 and SATA 3Gb/s specifications' 10 times and 2 times respectively, which is the 5Gb/s and 6Gb/s ultra high data transfer bandwidth. When used with USB 3.0 external devices or products that support SATA 6Gb/s and SSD solid-state hard drives, it can effectively satisfy all of the consumer's demand for high-speed storage devices.
Click BIOS that supports mouse operations
MSI's Llano series motherboard supports the UEFI architecture Click BIOS Concept. In addition to the traditional keyboard operations, it also supports the mouse-clicking method, satisfying the needs of more users. Moreover, it supports massive hard drives of more than 3TB, vastly increasing enthusiasts' storage capacity ability.
Supports the i-Charger charging function, allowing your iPad to be fully charged at any time
In response to the growing popularity of mobile Internet devices such as the Apple iPad, MSI's Llano series motherboard also has a built-in i-Charger charging technology. All you have to do is install the dedicated software and activate the i-Charger function. It will quickly help you charge your iPad, allowing your iPad to be fully charged at any time and allowing you to fully enjoy the convenience of going online anywhere, anytime.
For more information, visit the product page.
Last updated: Apr 7, 2020 at 12:05 pm CDT