ViewSonic Corp., a leading global provider of computing, consumer electronics and communications solutions, today continues its leadership in display innovation with the new V3D245 - a 24-inch 3D, full HD (1080p) LED monitor that includes a built-in NVIDIA 3D Vision wireless emitter and NVIDIA 3D Vision glasses.
Combining world-leading LED technology with extraordinary power-saving performance, this 24-inch (23.6-inch vis.) monitor offers a stunning 120Hz frame refresh rate and ultra-fast 2ms video response time, and HDMI 1.4 input making it ideal for delivering a truly immersive 2D and 3D entertainment and gaming experience. Paired with a 1920x1080 full HD resolution, 20,000,000:1 dynamic contrast ratio and 300 nits high brightness, users can expect great color accuracy and picture detail for unsurpassed 3D image quality.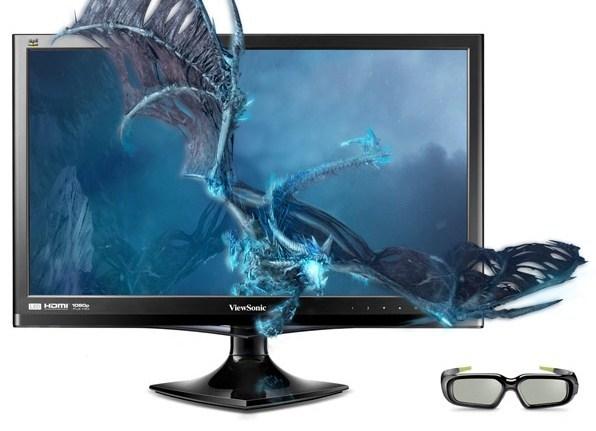 The integrated NVIDIA 3D Vision wireless emitter gives users the flexibility to connect to an NVIDIA GeForce-equipped PC to play more than 550 3D games in full 1080p, 60 fps resolution, view 3D videos and photos, and stream 3D web content. Users could also choose to connect directly to the latest Blu-ray 3D players or PS3 consoles via the standard built-in HDMI 1.4 input. Additionally, the integrated two-watt SRS Premium Sound audio speakers provides consumers the ultimate multimedia entertainment display.
"Gamers, movie buffs and photo enthusiasts will love moving up to 3D. And there's no better way to do so than with ViewSonic's V3D245 3D monitor, with its built-in NVIDIA 3D Vision technology, which produces the most immersive and crystal clear 3D images," said Phil Eisler, general manager of 3D Vision at NVIDIA. "Set-up is quick and easy. Simply connect the monitor to your NVIDIA GeForce graphics card, put on the included NVIDIA 3D Vision glasses, and start enjoying games, videos and photos in a whole new way."
NVIDIA's 3D Vision drivers support more than 550 video games in 3D, with more being continually added. In addition, 3DVisionLive.com hosts hundreds of 3D videos and thousands of 3D photos that can be seen with a free web browser and a 3D Vision system. YouTube also supports 3D Vision, with thousands of videos now available for viewing in stereoscopic 3D.
"Whether for work, play or media enjoyment, our new V3D245 monitor offers the highest level of compatibility with both PC- and console-based 3D content, and is ideal for delivering an incredible 3D experience," said Erik Willey, LCD monitor and PC product marketing manager, ViewSonic. "By pairing our exclusive 120Hz, LED-based 3D technology with NVIDIA 3D Vision technology, we are able to deliver a new world-class level of performance that will shape the future of 3D gaming and entertainment."
The V3D245 comes standard with ViewSonic's strongest pixel performance guarantee and 3-year limited warranty. ViewSonic's V3D245 3D monitor and included pair of NVIDIA 3D Vision active stereo 3D glasses and will be available in North America during mid-to-late August for an ESP of $499.
Last updated: Apr 7, 2020 at 12:05 pm CDT