- AMD revenue $1.57 billion, 2 percent sequential decrease and 5 percent decrease year-over-year
- Net income $61 million, earnings per share $0.08, operating income $105 million
- Non-GAAP1 net income $70 million, earnings per share $0.09, operating income $114 million
- Gross margin 46 percent
- Accelerating Fusion Accelerated Processor Unit (APU) shipments drive record microprocessor unit shipments and record mobile microprocessor unit shipments
SUNNYVALE, Calif. -7/21/2011
AMD (NYSE:AMD) today announced revenue for the second quarter of 2011 of $1.57 billion, net income of $61 million, or $0.08 per share, and operating income of $105 million. The company reported non-GAAP net income of $70 million, or $0.09 per share, and non-GAAP operating income of $114 million.
"In the first half of 2011, AMD brought to market the most competitive client offerings in our history, reinforcing our position as a design and innovation powerhouse," said Thomas Seifert, CFO and Interim CEO. "Today's computing experience is increasingly being defined by the ability to deliver brilliant multimedia and video content with all day battery life. Fusion APUs are ideal to meet this need, positioning AMD to gain unit market share in the mobile computing space."


Quarterly Summary
- Gross margin was 46 percent.
- Cash, cash equivalents and marketable securities balance at the end of the quarter was $1.86 billion.
- AMD's second quarter had 13 weeks of business compared to 14 weeks for the first quarter.
- Computing Solutions segment revenue was flat sequentially and year-over-year. Sequentially, higher mobile microprocessor revenues were offset by lower desktop and server revenue. The year-over-year decrease was primarily driven by lower server revenue.
◦Operating income was $142 million, compared with $100 million in Q1 11 and $128 million in Q2 10.
◦Microprocessor ASP decreased sequentially and year-over-year.
◦AMD launched the highly-anticipated AMD A-Series APU for client PCs combining a brilliant HD experience, supercomputer-like performance and all-day battery life for notebooks.
◦AMD Fusion APUs received the 2011 Best Choice of Computex Taipei Award and the A-Series APU-based products have won 20 reviewer awards to-date.
◦The AMD A-Series APU has secured more than 150 notebook and desktop design wins across leading PC manufacturers including Acer, Asus, Dell, HP, Lenovo, Samsung and Toshiba.
◦Acer and MSI introduced new tablets based on AMD's 2011 HD Tablet Platform and AMD Z-Series APU that enables outstanding video, graphics experience and content creation capabilities for Windows-based tablets.
◦The new AMD Embedded G-Series APU was named Best in Show for hardware at the Embedded Systems Conference by industry analyst firm VDC Research.
◦The number of AMD-powered offerings on the most recent TOP500 supercomputers list increased 15 percent, with more than half of the AMD systems featuring the AMD Opteron™ 8- or 12-core processors.
◦Dell, Cray and NexServe announced new AMD Opteron processor-based systems aimed at high-performance, compute-intensive workloads. Leading enterprises, universities and research facilities worldwide announced new high-performance computing installations featuring the AMD Opteron™ processor.
- Graphics segment revenue decreased 11 percent sequentially and 17 percent year-over-year. The sequential decrease was driven primarily by lower discrete mobile unit shipments and seasonality in the desktop discrete graphics add-in board market. The annual decrease was primarily driven by lower unit shipments.
◦Operating loss was $7 million, compared with operating income of $19 million in Q1 11 and $33 million in Q2 10.
◦GPU ASP was flat sequentially and year-over-year.
◦AMD expanded its offerings for the professional graphics market with the introduction of the AMD FirePro™ V5900 and FirePro™ V7900 graphics cards which provide enhanced visual capabilities designed to improve workflow and increase productivity for engineers and designers.
◦Dell announced a new, ultra-high performance blade server powered by the AMD FirePro™ V7800P professional graphics.
◦The award-winning AMD Radeon™ HD 6000 family of graphics expanded with the introduction of two sub-$100 cards offering support for DirectX 11, AMD App acceleration and AMD Eyefinity multi-display technologies.
◦AMD extended its position as the graphics provider of choice for the game console market, where more than 140 million current-generation games consoles are powered by AMD graphics technology. Nintendo announced it selected AMD to provide the graphics technology for its next-generation Wii U™ System that will be available next year.
Current Outlook
AMD's outlook statements are based on current expectations. The following statements are forward looking, and actual results could differ materially depending on market conditions and the factors set forth under "Cautionary Statement" below.
AMD expects revenue to increase 10 percent, plus or minus 2 percent, sequentially for the third quarter of 2011.
For additional detail regarding AMD's results and outlook please see the CFO commentary posted at http://quarterlyearnings.amd.com.
AMD Teleconference
AMD will hold a conference call for the financial community at 2:00 p.m. PT (5:00 p.m. ET) today to discuss its second quarter financial results. AMD will provide a real-time audio broadcast of the teleconference on the Investor Relations page of its Web site at AMD. The webcast will be available for 10 days after the conference call.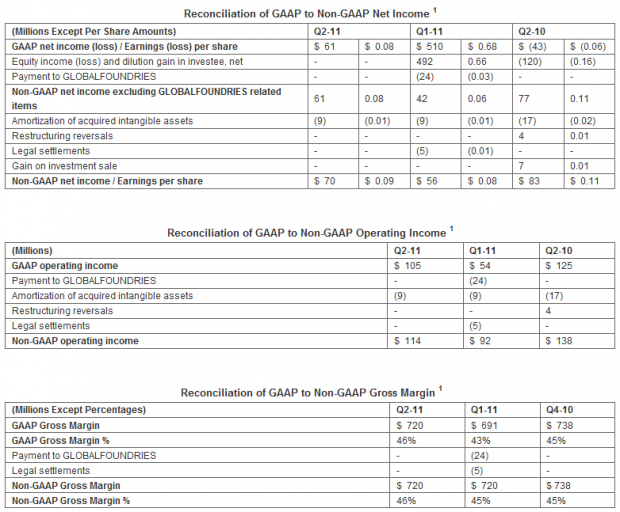 About AMD
AMD (NYSE: AMD) is a semiconductor design innovator leading the next era of vivid digital experiences with its groundbreaking AMD Fusion Accelerated Processing Units (APUs) that power a wide range of computing devices. AMD's server computing products are focused on driving industry-leading cloud computing and virtualization environments. AMD's superior graphics technologies are found in a variety of solutions ranging from game consoles, PCs to supercomputers. For more information, visit http://www.amd.com.
Last updated: Apr 7, 2020 at 12:05 pm CDT