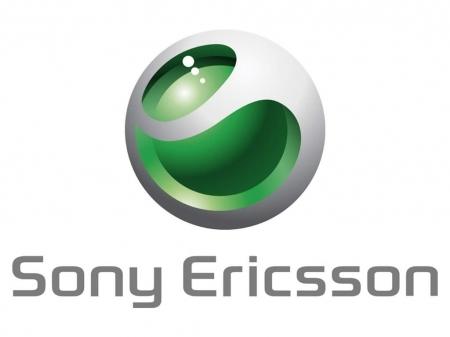 15 July 2011
Highlights:
- Supply chain constraints from the Japan earthquake significantly impact Q2 results
- Smartphones account for more than 70 percent of total sales
- Android-based Xperia™ volume up 150 percent year-on-year
The consolidated financial summary for Sony Ericsson Mobile Communications AB (Sony Ericsson) for the second quarter ended June 30, 2011 is as follows: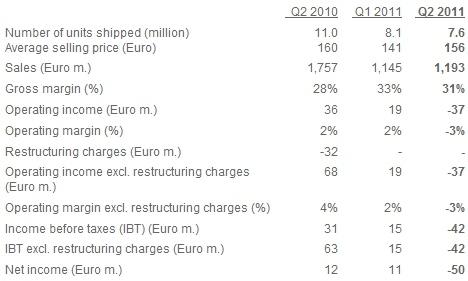 Bert Nordberg, President and CEO of Sony Ericsson commented, "Sony Ericsson's second quarter profitability was affected by the March 11 earthquake in Japan. We estimate that the impact of earthquake-related supply chain constraints on our portfolio was close to 1.5 million units, with most of the effect in the early part of the quarter. Our shift to Android-based smartphones continues with smartphone sales accounting for more than 70 percent of our total sales during the quarter. We have shipped more than 16 million Xperia smartphones to date. We have introduced eight new Xperia smartphones this year and we continue to see strong consumer and operator demand across the Xperia smartphone portfolio."
Units shipped during the quarter were 7.6 million, a 31% decrease year-on-year and a 6% decrease sequentially, due to a decrease in volume caused by constrained supply of critical components and an anticipated decline in the number of feature phones shipped.
Average selling price (ASP) for the quarter was Euro 156, a 3% decrease year-on-year but an 11% increase sequentially. The year-on-year decrease is due to product and geographic mix and price erosion. The sequential increase in ASP is attributed to favorable product and geographic mix, more than offsetting price erosion and unfavorable foreign exchange rates.
Sales for the quarter were Euro 1,193 million, a 32% decrease year-on-year and a 4% increase sequentially.
The gross margin percentage for the quarter was 31% with an improvement of 3 percentage points year-on-year that included restructuring charges, and a decrease of 2 percentage points from the previous quarter, which included the benefit of some larger than normal items relating to royalty matters and warranty estimates.
Loss before taxes for the quarter was Euro 42 million, compared to an income before taxes of Euro 31 million for the same quarter in the previous year, due to lower volume. Income before taxes for the previous quarter was Euro 15 million. The sequential change was reflective of lower gross margin and higher operating expenses.
The quarter ended in a net loss of Euro 50 million, compared to a net income of Euro 12 million in the same quarter in the previous year, and Euro 11 million in the last quarter. Tax expenses in this quarter included the impact of tax adjustments and the distribution of profits and losses between various jurisdictions.
Cash flow from operating activities during the quarter was negative Euro 224 million, mainly due to increases in accounts receivables and inventories, negative net income and timing of certain payments. New external borrowings of Euro 165 million were made during the quarter to enhance liquidity and growth, resulting in total borrowings of Euro 769 million at the end of the quarter. Total cash balances at June 30, 2011 amounted to Euro 516 million.
Sony Ericsson estimates that its share in the global Android-based smartphone market during the quarter was approximately 11% in volume and 11% in value.
Sony Ericsson maintains its forecast for modest industry growth in total units in the global handset market for 2011.
The liquid identity is a registered trademark of Sony Ericsson Mobile Communications AB. Xperia™ is a trademark of Sony Ericsson Mobile Communications AB. Sony is a registered trademark of Sony Corporation. Ericsson is a registered trademark of Telefonaktiebolaget LM Ericsson. Any rights not expressly granted herein are reserved and subject to change without prior notice.
About Sony Ericsson
Sony Ericsson celebrates its 10th year as a joint venture between Sony Corporation and Ericsson in October 2011. Over the years Sony Ericsson has brought together the best communication technologies with superior entertainment user experiences to create its Xperia™ line of the 'most entertaining smartphones' in the mobile handset industry. With its global corporate functions in London, Sony Ericsson has sales and marketing operations in all major regions of the world, as well as manufacturing operations in China, and product development sites in China, Japan, Sweden and Silicon Valley, California. For more information, please visit: www.sonyericsson.com/press.
Last updated: Apr 7, 2020 at 12:05 pm CDT