Taipei - Apacer, the global leader in memory module, is making aggressive moves into the sector of value-added products by debuting today a new industrial SD card designed for embedded systems in harsh storage environments. Features include high reliability, high storage and resistance to extended temperatures. These advantages enable the new card to be widely applied to industrial, military, communication, surveillance, medical devices and car navigation, thereby satisfying the storage need of demanding industrial enterprises.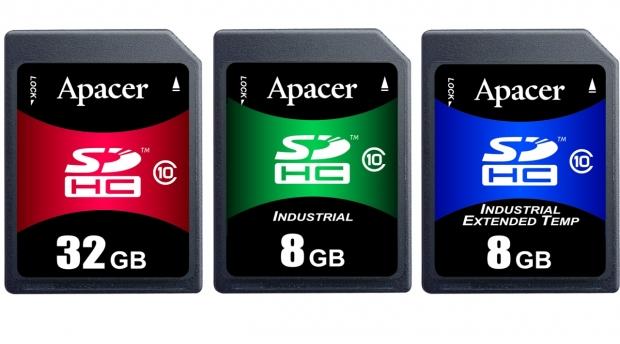 Compliant with Ver. 2.0 standard and SDHC Class 10 high-speed transmission standard as defined by the SD Association, the new SD card from Apacer also supports SD and SPI modes. By using the superbly reliable SLC chip, it not only delivers the features of anti-shock, anti-vibration and low power consumption, but also boasts resistance to extended temperatures (-40ºC to 85ºC). Available in capacities from 256 MB to 8 GB, the new SD card can substantially accelerate data transfer, due to its sequential read/write speed reaching up to 20/13 MB per second. It is also worth noting that the card's automatic standby and sleep modes help save power more effectively.
For the just-launched SD card, Apacer also introduces MLC (Multi-Level Cell) flash memory offerings. Boasting the sequential read/write speed of as fast as 19/8 MB per second, the product is available from 4 GB to 32 GB in capacities. To ensure that data stay correct, the industrial SD card supports 24-bit ECC function, which minimizes potential errors led by frequent data access to strengthen the system reliability. Also complete with integrated Global Wear leveling and S.M.A.R.T technology, the SD card features a prolonged lifespan as well as safer data storage.
With more than 10 years of experience in flash market, Apacer is a Taiwan-based SSD supplier capable of developing hardware, software and firmware. Its long track record in customization service has attracted widespread acclaim from tech giants around the world. Now Apacer demonstrates its dedication to highest quality again by offering the new industrial SD card that has passed stern reliability tests for temperature, humidity, shock and vibration. Furthermore, post-mass production ORT (on-going reliability testing) is even performed for ensured stability. Currently this new industrial SD card has entered mass production. Samples are now available for customers to run test. For more details, please feel free to contact local Apacer sales representatives.
About Apacer
Apacer Technology Inc. offers a wide range of industrial SSD, digital consumer products and memory modules. Together with its broad R&D, design, manufacturing, and marketing strengths, it has become a leading global manufacturer in the industry. Since its establishment, Apacer has always followed its promise, "Access the best," to produce reliable, innovative products and services. Apacer supplies customers with high performance, reliable, high value memory modules and flash memory via a marketing network that stretches across worldwide distributors, product manufacturing facilities, and retail consumers. Apacer provides innovative, state-of-the-art digital storage products to store, record, and share the digital information crucial to their work and essential to their daily lives.
Last updated: Apr 7, 2020 at 12:05 pm CDT