TAIPEI, Taiwan, July 13, 2011 - The world's third largest motherboard manufacturer ASRock Inc, is proud to release its exclusive technology -
"XFast LAN". Since the Internet is a fantastic resource where the best deals are to be had. When the web program loads very slowly for no clear reason, it's usually due to inefficient management. Thus, users demand a smart tool that can make light work of online tasks. ASRock XFast LAN is a smart productivity tool to help you manage your priorities of Internet applications, simplify your digital life and accomplish more.
ASRock is rolling out super efficient web management in the motherboard industry. The XFast LAN is a convenient tool that controls the Internet applications easily and efficiently. Creating a perfect Internet environment, all you need is a smart manager. The ASRock XFast LAN allows you to enjoy more speed, easier multitasking, enhanced multimedia experience, and more - all without weighing you down.
XFast LAN will be your clever manger to control the web programs. The exciting features of XFast LAN include:
Internet Application Prioritization
ASRock XFast LAN utility provides user-friendly options in an advanced viewing interface. You can configure your internet application priority ideally and/or add new programs.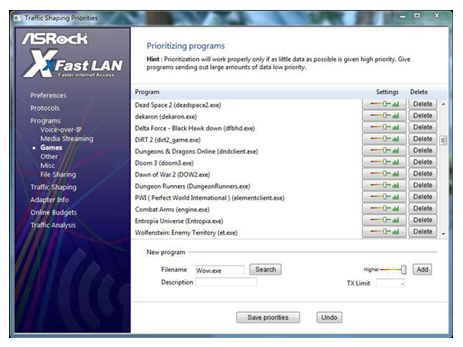 Lower Latency in Game
Fast response is incredibly important in games. The PC offers lightning fast responses that are essential for positioning the camera or lining up the scopes for a headshot. After setting online game priority higher, XFast LAN can lower the latency in games to assist you easily become the winner.
Time Latency in World of Warcraft: Cataclysm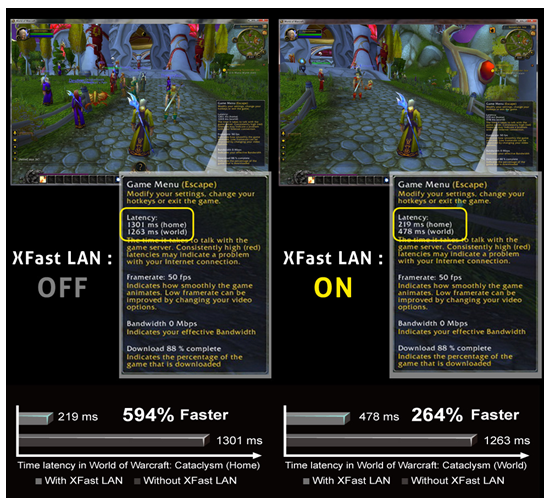 - The fantastic XFast LAN provides up to 594% performance boost in "Time Latency in World of Warcraft: Cataclysm (Home)" test. It is undeniably the essential tool for obtaining the fastest response from your games.
Traffic Shaping
Are you tired of waiting buffering of Youtube video? Traffic Shaping allows you to watch Youtube HD video and download files simultaneously. You will never have to wait long time for anything to load again.
Real-Time Analysis of Your Data
The Real-Time analysis interface ensures you to obtain more precise control of the web programs. With the status window, you can easily recognize which data streams you are currently transferring.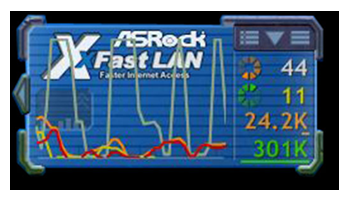 As the third-largest motherboard manufacturer in the world, ASRock endeavor in delivering cutting-edge technology and products to users. By XFast LAN, users can enjoy amazingly high-speed gaming experience while doing multi-tasks. All the innovative features of XFast LAN are not specialties for the latest motherboards but can be implied on all series of ASRock motherboards.
The exciting XFast LAN is now available online, please visit our website and download the drivers from the link below: http://www.asrock.com/feature/xfastLAN/
About ASRock
ASRock Inc. is established in 2002, specialized in the field of motherboards. ASRock strives to build up its own brand. With the 3C design concept, "Creativity, Consideration, Cost-effectiveness", the company explores the limit of motherboards manufacturing while paying attention on the eco issue at the same time, developing products with the consideration of eco-friendly concept.
ASRock has been growing fast and become world third largest motherboard brand with headquarter in Taipei, Taiwan and branches in Europe and the USA. The young and vibrant company targets from mainstream to enthusiast MB segments for different kinds of users, owning reputation around the world market with its reliability and proficiency. Further information, please visit http://www.asrock.com/.
Last updated: Apr 7, 2020 at 12:05 pm CDT