Twinsburg, OH - July 6th 2011
AVADirect, a world-wide leader in custom computer integrator, is now offering new desktop PC systems powered by new AMD's Fusion APU (Accelerated Processing Unit) family of processors and new A75 and A55 chipsets. AMD Fusion APUs enable an outstanding next-generation visual experience and ensure compatibility with Microsoft® Windows® 7 and DirectX® 11. New AMD A-series APUs A8-3850, A8-3800, A6-3650 and A6-3600 use a 32-nanometer manufacturing process and incorporate a graphics-processing core directly into the CPU chip. This provides greater power efficiency and faster performance than in separate CPU and GPU PC designs.
AMD's FM1 socket was released to, not only compete with Intel's Sandy Bridge processor line, but to provide a central processing unit and graphics processing unit in one simple solution at a competitive cost. The product is ideal for those who do not require a significant amount of graphics acceleration (home and office use) ,that most high-end ATI graphics cards can provide, or need a small form-factor system that is capable of as much performance as possible for the size. The smaller 32nm process reduces heat generation and power consumption while offering more performance than ever thought possible with an AMD processor. For end-users who are interested in the graphics acceleration capabilities, AMD's Llano surpasses that of an Intel Sandy Bridge processor by almost 25%. Home Theater PC end-users will want to focus on this processors capabilities closely, as AMD promises more in-depth details toward HD streaming and viewing increasingly becomes daily routine for anyone who owns a PC.
AVADirect will first begin taking orders on their Socket FM1 Desktop PC under Custom Desktop Computers. Though they do not have any gaming configurators listed as of yet, the configurations will still provide those who are eager to purchase the new AMD chips with the ability to purchase and receive sooner than most.
To order an AMD Llano Desktop PC click here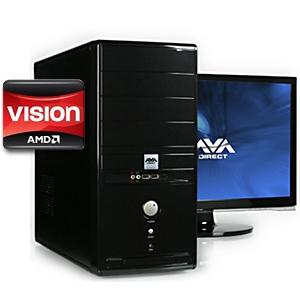 About AVADirect
AVADirect is a privately owned custom computer manufacturer based in Twinsburg, Ohio, (within close proximity to Cleveland) specializing in the design, engineering and manufacturing of personalized high performance computer systems. The systems span the spectrum from Windows or Linux manageable and highly-reliable servers, to high-end workstations and gaming systems, to business PC's, notebooks and barebones systems and parts, focused on the commitment to meet the everyday demands of the marketplace, while creating a footprint within the industry.
For more information, visit http://www.avadirect.com.
Last updated: Apr 7, 2020 at 12:05 pm CDT