Twinsburg, OH - July 6th 2011
AVADirect, a world renowned custom computer integrator, now has Silent Custom Computer configuratons as an option listed on their website. Each configuration has specific hand-picked components that, when combined, create a powerful system that is left to be unheard to end-users seeking a powerfully silent system. This gives all customers the opportunity to have exactly what they want, without having to know which parts are quiet, and which will give them headaches.
AVADirect.com currently lists three Silent Custom Computer configurations; all in which have specific brands of cases that will keep noise levels at whisper quiet. More specifically, parts like the power supply have been narrowed down to a limited selection to provide models with less fan noise, due to the larger cooling fans, and higher power capacity. One of the most vital aspects of AVADirect's Silent custom Computer configurations are the noise reduction accessories. The silent configurations offer anything from Lamptron's noise reduction kit (featuring a myriad of rubber screws, anti-vibration hard drive accessories, and silent fan cables) to shake-proof fan washers. For those who require high speed hard drives, you will have the option of using hard drive-silencing enclosures to reduce the noise generously.
AVADirect currently has three different configuraitons (X58, Z68, & Phenom II), relevant to different chipsets, that are available for purchase and will continuously increase the choices as new technology immerges within the industry. In light of the offerings, AVADirect will also accept any extra requests in attempt to uniquely assemble each system as the customer envisions.
To view all silent configurations offered click Silent Custom Computer Configuration at AVADirect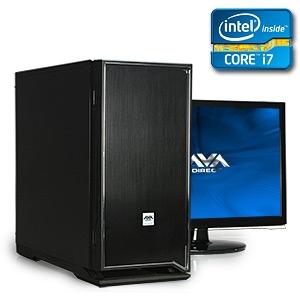 About AVADirect
AVADirect is a privately owned custom computer manufacturer based in Twinsburg, Ohio, (within close proximity to Cleveland) specializing in the design, engineering and manufacturing of personalized high performance computer systems. The systems span the spectrum from Windows or Linux manageable and highly-reliable servers, to high-end workstations and gaming systems, to business PC's, notebooks and barebones systems and parts, focused on the commitment to meet the everyday demands of the marketplace, while creating a footprint within the industry.
For more information, visit www.avadirect.com.
Last updated: Apr 7, 2020 at 12:05 pm CDT