In this age of high-definition camcorders, do you find yourself with a high speed memory card to go with your professional standard camera, but lacking an ultra-high speed card reader to complete the package? SP (Silicon Power), leading manufacturer of flash memory, today announces the launch of the all-new USB 3.0 ALL IN ONE card reader. With its universal compatibility and high speed 5 Gb/sec data transmission rate, it is the ultimate link between high-performance memory cards and storage devices for professional-level photographers.
Designed to accommodate all mainstream memory cards, the ALL IN ONE card reader is highly compatible and reliable. Containing five card slots for simultaneous read and write, it is equipped to deal with even the latest high speed SDXC UHS-1 memory card. Whether you are looking to upload every second of a high definition video or a series of high resolution action shots, the ALL IN ONE card reader will have the job done in a matter of seconds. Supporting Ultra DMA mode 7, the ALL IN ONE card reader runs on CF600X high-speed memory cards at their fastest capacity. Using the latest high speed USB 3.0 interface, it takes the stress out of transferring high definition photographs, making file saving faster and easier.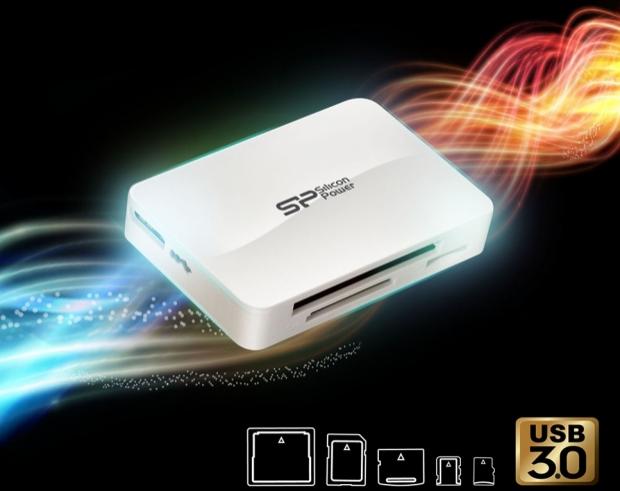 Weighing barely 55g, the USB 3.0 ALL IN ONE card reader is small and compact, designed to take up only the minimum space needed. It contains a 50cm USB cable as well as an LED power indicator: the ALL IN ONE card reader really is the epitome of convenience for the owners of desktop computers and laptops alike.
Features:
- Compatible with USB3.0, USB 2.0 devices
- Support 5Gb/s super-speed, 480 Mb/s high-speed, and 12 Mb/s full-speed transfer rates
- Five card slots that can read and write simultaneouslyo CF
o XD
o M2/micro SD/SDHC/SDXC
o SD/MMC/SDHC/SDXC
o MS Pro/MS Duo/MS Pro Duo/MS Pro HG/MS XC
- Support new spec card & capacityo SDXC UHS-I: upto 2TB
o MS Pro HG/MS XC: upto 32GB
o CF / Ultra DMA mode 7
- LED indicates the usage status
- With 50cm USB3.0 cable
- 2-year warranty
Specifications
- Dimensions: 73 x 50 x 13 mm
- Weight: 55g (excluding USB transmission cable)
- Support OS: Windows 2000 SP4,Windows XP SP3,Windows Vista Home Basic (32Bits),Windows
- Vista Ultimate (64Bits),Windows 7 Ultimate (32Bits),Windows 7 Ultimate (64Bits),Linux Fedora 11 (kernel 2.6.X),Mac 10.2.8,Mac 10.5.6,Mac 10.5.8,Mac 10.6.4
- Operation temperature: 0°C ~ 70°C
- Storage temperature: -20°C ~ 60 °C
- Color: White
Last updated: Aug 9, 2020 at 12:18 am CDT