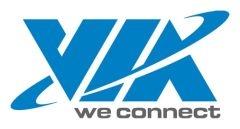 VIA Technologies, Inc. ("VIA") today announced the signing of definitive agreement to sell all of its shareholding in S3 Graphics Co., Ltd. ("S3 Graphics") to HTC Corporation ("HTC"). S3 Graphics is a leading provider of innovative graphics visualization technologies used in PCs, game consoles and, more recently, mobile devices.
VIA acquired S3 Graphics in 2001 with the intention to accelerate integration of graphics capabilities with its processor and chipset products. S3 Graphics became undercapitalized in 2005, and VIA introduced WTI Investment International, Ltd. ("WTI") as a new investor to help fund the operations and R&D initiatives. WTI is a private investment company, in which Cher Wang, Chairman of VIA, is a significant shareholder.
Under terms of the agreement with HTC, total consideration for all outstanding shares of S3 Graphics will be US$300 million. Of which, VIA will receive US$147 million; and WTI will receive US$153 million. VIA will recognize a capital gain of US$ $37 million and paid-in-capital of US$ 115 million in this transaction.
"The transaction would allow VIA to monetize a portion of its rich IP portfolio, yet retain its graphics capabilities to support the development and sale of its processors and chipsets," said Tzu-mu Lin, Senior Vice President and Board Director of VIA. "We wish to thank WTI for its capital contribution to support S3 Graphics since 2005."
The proposed transaction has received approvals from the boards of directors of VIA, WTI, and HTC. Subject to regulatory approvals and other customary conditions, the transaction is expected to close before end of 2011.
Last updated: Apr 7, 2020 at 12:05 pm CDT