Data safeguarded with the featured lock switch for write-protection
Taipei ©¤ Data safety in storage devices has been the prime concern of enterprise users ¡ª in particular for industrial enterprises. To assist users in protecting data in such storage devices, Apacer Technology Inc., the global leader in memory module, today unveiled the fifth-generation industrial CF card featuring a write-protection design for data storage safety. The lock switch on the bottom side of the memory card prevents data from being tampered. Committed to safeguarding data for industrial enterprise s, Apacer brings the data storage solution to a new level.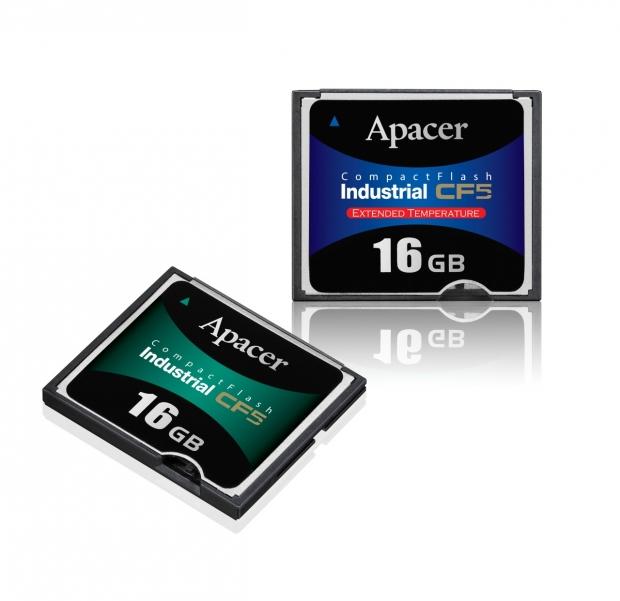 The just-launched fifth-generation industrial CF card features write-protection. By simply locking the lock switch on the bottom side of the card, the industrial CF card allows data to be read only, thus preventing any attempt to write. This way, the data not only can stay safe by avoiding accidental deletion but also can prevent tampering of confidential information that may result in data leakage. These advantages make the card ideal for embedded devices in such fields as medical, military, gaming and automotive applications.
The industrial CF5 card is compliant with the CFA 4.1 specifications. Apacer adopts the standard 50-pin connector and SLC chip featuring industry-level stability for the card. It also boasts resistance to extended temperatures (-40¡ãC to 85¡ãC), and is available in capacities from 128MB to 16GB. The data transfer mode is up to PIO-6, Multi-Word DMA-4 and Ultra DMA-5, with the sequential read/write speed reaching as fast as 40/30 MB/sec. To help data stay correct, this CFC5 memory card also supports 24-bit ECC function, wear-leveling function and S.M.A.R.T. (Self-Monitoring, Analysis, and Reporting Technology), thereby substantially enhancing product reliability.
Apacer demonstrates its dedication to highest quality again by offering the new fifth-generation CF card that has passed stern reliability tests for extended temperature, humidity, shock and vibration. Furthermore, the ORT (on-going reliability testing) is performed as well after the mass production to ensure stability. Currently this new CFC 5 industrial memory card has entered mass production. Samples are now available for customers to run test. For more detailed information on this product, please feel free to contact local Apacer sales representatives.
About Apacer
Apacer Technology Inc. offers a wide range of industrial SSD, digital consumer products and memory modules. Together with its broad R&D, design, manufacturing, and marketing strengths, it has become a leading global manufacturer in the industry. Since its establishment, Apacer has always followed its promise, ¡°Access the best,¡± to produce reliable, innovative products and services. Apacer supplies customers with high performance, reliable, high value memory modules and flash memory via a marketing network that stretches across worldwide distributors, product manufacturing facilities, and retail consumers. Apacer provides innovative, state-of-the-art digital storage products to store, record, and share the digital information crucial to their work and essential to their daily lives.
Last updated: Apr 7, 2020 at 12:04 pm CDT