PNY Technologies, Inc. ("PNY"), a global leader in flash memory cards, USB flash drives, solid state drives, High Speed HDMI cables, computer memory upgrade modules, as well as consumer and professional graphics cards, today announced the debut of an innovative product line of Liquid Cooled Graphics Cards. PNY's new Liquid Cooled Graphics solution will be showcased at E3 2011 from now until June 9th.
PNY and Asetek, a leader in CPU thermal management, have combined forces to launch a high-end Liquid Cooled Graphics solution geared towards gaming enthusiasts. Consumers will receive a fully integrated XLR8 GeForce GTX liquid cooled graphics system, with a combination GPU/CPU cooling version available as well. Engineered with a closed loop system, and built with an Asetek sealed water cooler already attached, the PNY design offers consumers an out-of-the-box ready, simple to install and reliable product.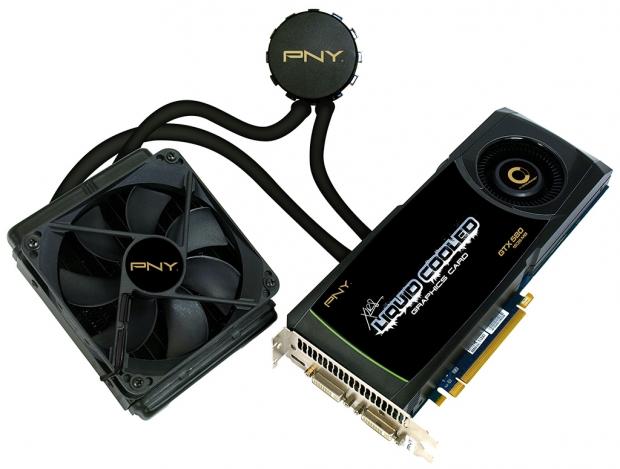 This new system delivers significant benefits, with up to 30% cooler temperatures, quieter acoustics, and faster performance than the standard reference designed NVIDIA GeForce GTX 580 graphics card. With increased overclocking headroom versus air cooled, the liquid keeps overall temperatures low to provide better performance for gamers. Liquid Cooled also generates less heat -- for a 30° C difference in temperature -- and your PC parts are protected due to lower exposure to hot temperatures. Additionally, less noise is produced as fans aren't running at maximum speed to compensate for the heat. Lower acoustics means a quieter gaming environment for more gaming concentration and the option for gamers to not have to use headphones to mask noise levels. The overall advantage is extreme performance and higher frame rates without the heat.
PNY's Liquid Cooled system is on display at the E3 (Electronic Entertainment Expo) 2011, taking place now through June 9th at the Los Angeles Convention Center in Los Angeles, CA. Attendees will have the opportunity to take a sneak peak of PNY's Liquid Cooled Graphics at work in the Creative Labs, Inc. booth #5638, located in the West Exhibit Hall.
"Together with Asetek, PNY will redefine the way gamers build and upgrade their PC systems," said Nicholas Mauro, senior marketing manager, PC components for PNY. "With a design that outperforms current equivalent air cooled models, this simple all-in-one solution will resonate deeply with gamers looking for a powerful yet affordable option. With tens of thousands of gamers already flocking to E3, there's no better place to launch this product than the world's premiere show for new technologies in computer gaming products."
"PNY's Liquid Cooled Graphics solutions deliver better performance, temperatures and acoustics to gamers with the reliability and ease of installation inherent in Asetek sealed liquid cooling," said Adrian Hodgson, marketing manager at Asetek. "We're thrilled to give E3 attendees the first chance to see these products in action."
For a limited time only, PNY is offering consumers a pre-order promotional launch bundle. With the purchase of a Liquid Cooled GTX 580 on PNY.com, consumers will receive over $100 worth of bonus PNY gear: a 16ft HDMI Mini to HDMI Cable, a custom-built PNY 8GB 'Liquid Cooled' USB Flash Drive, and a 'Liquid Cooled' logo T-shirt. This bundle is available for a limited time only and only on PNY.com.
Pricing:
• XLR8 Liquid Cooled GTX 580: MSRP is US $579.99
• XLR8 Liquid Cooled GTX 580 with CPU Cooling: MSRP is US $649.99
Last updated: Apr 7, 2020 at 12:04 pm CDT