-- G1.Assassin Makes Clean Sweep at Computex 2011 Awards --

City of Industry, California, USA, May 24th 2011 -GIGABYTE Technology Co. Ltd., a leading manufacturer of motherboards and graphics cards, today announced that the G1. Assassin motherboard has been awarded the prestigious 'Best Choice' award from Taipei Computer Association (TCA), the organizers of Computex 2011. This award builds on the recent the 'Design and Innovation' accolade earlier this month, reinforcing the GIGABYTE G1. Assassin's status as the world's best motherboard for cutting-edge PC gaming.
"Genuine industry leadership means taking the risk to innovate where others simply follow," commented Richard Chen, VP of Worldwide Sales and Marketing at GIGABYTE. "This highly coveted award from TCA again highlights our efforts to constantly push the barriers of motherboard innovation, addressing a growing niche market that we felt was traditionally underserved."
GIGABYTE G1.Assassin: Weaponize Yourself
Featuring several state-of-the-art onboard solutions from industry leaders including Creative and Bigfoot Networks, as well as several unique GIGABYTE features, the G1.Assassin motherboard is unlike any current gaming motherboard on the market. With the ultimate in multi-GPU support, dedicated on-board audio and advanced networking, GIGABYTE has brought out some incredibly big guns to the party, so lock & load soldiers, and get ready to unleash some mass gaming destruction.
Super Sight: 4-way CrossFireX™ and 3-way SLI™ Support
GIGABYTE has equipped the G1. Assassin motherboard to offer utmost graphics flexibility and upgradeability, with multiple GPU support including 4-way CrossFireX™ and 3-SLI™ to deliver maximum FPS (Frames Per Second).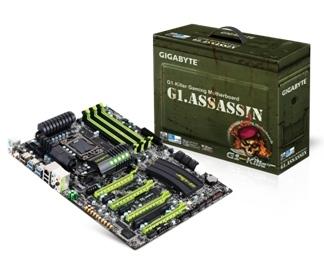 Super Hearing: Onboard Creative Soundblaster X-Fi Digital Audio Processor
The GIGABYTE G1. Assassin motherboard is one of the world's only gaming motherboards to feature Creative's top-of-the-line Soundblaster Digital Audio Processor (20K2) onboard with X-Fi Xtreme Fidelity® and EAX® Advanced HD™ 5.0 technologies, allowing you to experience sound in your gaming world exactly as you would in real life.
Super Speed: Onboard Bigfoot Networks Killer™ E2100 Game Networking Platform
The G1. Assassin motherboard implements the Bigfoot Networks Killer™ E2100 Game Networking Platform directly onboard, utilizing a unique combination of dedicated Network Processing Unit (NPU) and exclusive Game Networking DNA™ technology. This gives gamers the best possible online gaming experience, bypassing the Windows Network Stack to deliver tremendous speed benefits which allow you to move quicker, shoot faster and win bigger.
Super Shield: Locked and Loaded Heatpipe Design
The GIGABYTE G1-Killer series features a brand new heatpipe that was designed to be as deadly to heat as it looks. By effectively spreading the heat from the critical areas of the motherboard such as the CPU VRM zone and quickly dissipating it, the GIGABYTE G1. Assassin remains cool, even when the battle heats up.
To learn more about the G1. Assassin motherboard and the other G1-Killer series motherboards, please visit:
http://www.gigabyte.us/MicroSite/259/index.html
About GIGABYTE Upgrade Your Life
GIGABYTE Technology Co. Ltd., headquartered in Taipei, Taiwan, is known as a leading brand in the IT industry with branch offices located in 24 countries around the world. Founded in 1986, GIGABYTE started as a small research and development team and has since taken a position as one of the in the world's top motherboard manufacturers. In addition to motherboards and graphics cards, GIGABYTE further expanded its product portfolio to include notebook and desktop PCs, datacenter servers, networking products, mobile handsets, and home entertainment devices to serve each facet of the digital life in the home and office. Everyday GIGABYTE aims to "Upgrade Your Life" with innovative technology, exceptional quality, and unmatched customer service. In 2011, GIGABYTE celebrates its 25th anniversary. Through a quarter of century, we have committed to quality excellence and serviced our clients with enthusiasm and professionalism. We will continue to navigate into the future in full sail. Visit www.gigabyte.us for more information.
Last updated: Apr 7, 2020 at 12:04 pm CDT