Elitegroup Computer Systems (ECS), the world's leading motherboard, graphics card, barebone system, and notebook manufacturer unveils the newest ECS GeForce GTX 560 graphics card with DirectX 11 solution. GeForce GTX 560 graphics card are built with an NVIDIA GeForce 560 graphics processing units (GPU) come with 336 CUDA cores and 256-bit GDDR5 1024MB at 4000 MHz memory clock to present the breathtaking calculating speed for graphics.
ECS GeForce GTX 560 graphics card designed with cutting-edge welding technology-CoolFast to connect the bottom of cooler with heat pipe; in this way, the heat will directly transfer to heat pipe without the intermediary of a piece of copper to achieve higher heat dissipation. The advanced cooler technology would help to improve 20% more cooling ability.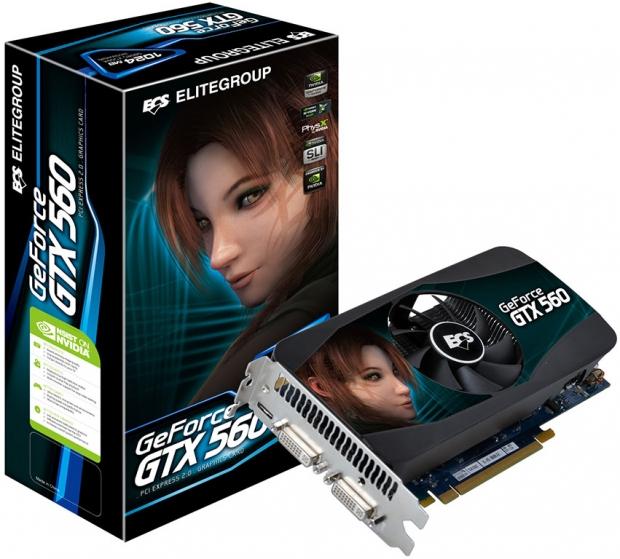 DirectX 11, the Whole New Age of Gaming Experience
With NVIDIA CUDA technology, ECS GeForce GTX 560 fully fulfills gamer's requirement for the latest DirectX 11, Open CL and Open GL 4.1, which will become mainstream requirement for high-performance games. ECS GTX 560 also contains NVIDIA PhysX technology enabling more dynamic and realistic gaming interaction and NVIDIA 3D Vision ready for 3D performance and entertainment experience.
Multi-Output, Solid Design
Moreover, ECS GeForce GTX 560 equips with dual DVI-I and mini-HDMI outputs to multiple your enjoyment of vision. Besides, ECS GTX 560 built up with all solid capacitor to ensure the longer lifespan of the graphics card. All solid capacitor design also makes sure more stable current to protect your graphics card.
The First Choice for Performance
As the new member of NVIDIA performance level, ECS GeForce GTX 560 presents high cost/performance ratio for gaming users. As an advanced version of GTX460, ECS GTX 560 amazingly reveals up to almost 40% more gaming power performance combining CoolFast cooling technology supports the latest graphics language DirectX 11 achieving satisfied performance. ECS GeForce GTX 560 proves itself to be the top choice of high-end graphics cards.
Last updated: Apr 7, 2020 at 12:04 pm CDT