-- Show Us Your Best 3DMark2001 Score on Any GIGABYTE 6 Series Motherboard -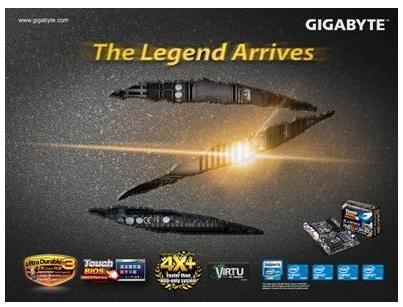 City of Industry, California, USA - May 16, 2011- GIGABYTE TECHNOLOGY Co., Ltd, a leading manufacturer of motherboards, graphics cards and other computing hardware solutions today announced a new overclocking competition in conjunction with HWBOT.org called the "Super Tuner" contest.
For all of you 3DMark2001 pros out there, time to get out your wrenches and show us your tuning skills. From May 15th to June 15th, GIGABYTE and HWBOT are hosting the GIGABYTE Super Tuner Contest. There are 3 stages to this competition based on GPU.
Stage 1: Nvidia GeForce 200 Series (single or multiple)
Stage 2: Nvidia GeForce 300/400 Series (single or multiple)
Stage 3: AMD/ATI Graphics (single or multiple)
Contestants can use any GIGABYTE 6 series motherboard (aka Sandy Bridge) with the top 3DMark2001 scorers in each category each winning one of the latest GIGABYTE Z68 series Z68X-UD3H-B3 motherboards.
Good Luck everyone and get tuning!
For complete contest details and rules, please visit: http://hwbot.org/competition/gbt_p67_super_tuner
About the GIGABYTE Z68X-UD3H-B3
The winner of each stage will be rewarded with a brand-new
GIGABYTE Z68X-UD3H-B3
motherboard! Combining the advantages of the Intel® P67 and H67 platforms in one complete package, the GIGABYTE Z68 series offer the best of both worlds; users can take advantage of the system tuning and overclocking features found in the Intel® P67 platform as well as the built-in visual features of the H67 platforms when combined with 2nd generation Intel® Core ™ processors.
About GIGABYTE Upgrade Your Life
GIGABYTE, headquartered in Taipei, Taiwan, is known as a global leading brand in the IT industry, with employees and business channels in almost every country. Founded in 1986, GIGABYTE started as a research and development team and has since taken the lead in the world's motherboard market. On top of motherboards and graphics accelerators, GIGABYTE further expanded its product portfolio to include notebook and desktop PCs, digital home entertainment appliances, networking servers, communications, mobile and handheld devices, servicing every facet of people's lives at home or business. Everyday GIGABYTE aims to "Upgrade Your Life" with the most innovative designs and impeccable quality and services. Visit www.gigabyte.us for more information.
Last updated: Apr 7, 2020 at 12:04 pm CDT