HighPoint Delivers SSD Caching HBAs to Desktop PCs
May 2, 2011 1:35 AM CDT
SSD Caching has become the "Hot" Storage topic of the PC industry. In the near future, motherboards based on the Intel SandyBridge (Z68) will bring SSD Caching to the desktop PC. SSD Caching boots system performance by using high-speed solid state disks to offset slower, but high-capacity hard disk drives. Once limited to enterprise server applications, SSD Caching is now within the reach of PC users. The mainstream consumer market has embraced SSD's sub $100 models are now commonplace; ideal for caching applications.
Recently, HighPoint Technologies has launched a pair of 6Gb/s PCI-Express 2.0 HBA's that deliver SSD Caching solutions to any PCI-Express Platform, sharing the high-performance benefits of this technology with PC users worldwide. HighPoint SSD Caching HBA's combine any SSD and HDD of any capacity into a single storage drive. SSD Caching Drives can be used to boot the system, host applications or simply serve as libraries for file storage and Home Media Networks. HighPoint SSD Caching HBA's provide two distinct modes of operation: Safe-Mode stores all permanent data safely on the HDD for security, while Capacity Mode uses the space provided by each device to optimize storage and performance.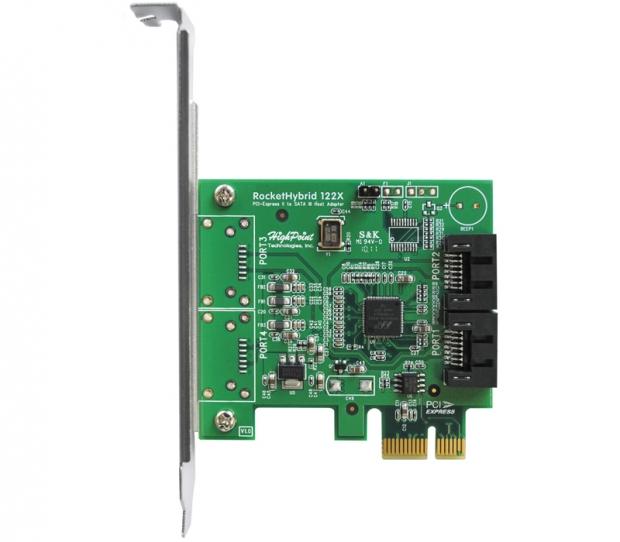 Automatic File Acceleration
Like conventional SSD Caching solutions, HighPoint SSD Caching HBA's provide a fully automatic caching mode. The HBA will monitor file access, and intelligently transfer this "Hot Data" to the SSD for improved performance. System performance is optimized in the background - the experience is fluid and transparent; the system does not require downtime and can be used as needed.
Manual, Fully-Customizable System Acceleration
HighPoint SSD Caching HBA's were designed with the Enthusiast in mind. If you so choose, the HighPoint will move you to the driver's seat, providing full-manual, "Stick-Shift" control over your system's performance. Select which files or Applications to accelerate, at any time, for immediate results. Fine-Tune your PC experience with the easy to use Windows-style interface; you are free to accelerate and decelerate files, folders and Applications at will.
HighPoint's SSD Caching HBA's: The Versatile, SSD Caching Solution
HighPoint's SSD Caching HBA's support a wide-range of storage configurations to address the needs of Gamers, Media Professionals, and PC Enthusiasts.
External (RocketHybrid 1222) and Internal (RocketHybrid 1220) Configurations
Data Redundancy (Safe Mode) - protects your data against device failure
Optimal Speed and Capacity (Capacity Mode)
Primary and Secondary Storage Applications - ideal for the boot, application, or storage drives.
Automatic - "Hot file" allocation or Full Manual "Stick-shift" Control over the system's file and application acceleration
Fully Windows Compatible - AHCI plug and play
Ideal, external secondary storage for Windows BootCamp configurations on Mac Pro Systems.
PCI-Express 2.0 x, SATA 6GB/s - fully backwards compatible with PCI-Express 1.0 and SATA 3Gb/s devices
Availability and Pricing
HighPoint SSD Caching HBA's are available immediately, from a world-wide network of Distribution and Reseller channels.
MSRP: $59.99
Distribution Channels: ASI, D&H Distribution, MaLabs
Last updated: Apr 7, 2020 at 12:04 pm CDT
PRICING: You can find products similar to this one for sale below.

United States: Find other tech and computer products like this over at Amazon.com

United Kingdom: Find other tech and computer products like this over at Amazon.co.uk

Australia: Find other tech and computer products like this over at Amazon.com.au

Canada: Find other tech and computer products like this over at Amazon.ca

Deutschland: Finde andere Technik- und Computerprodukte wie dieses auf Amazon.de
Related Tags